Republicans Promise That the Hillary E-mail Questions Are Just Beginning
The Select Committee on Benghazi isn't done, and Republicans love it.
by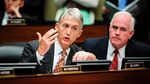 Twenty minutes after the wrap of Hillary Clinton's press conference about her private e-mail account, the Benghazi Select Committee chaired by Representative Trey Gowdy of South Carolina judged it troubling and incomplete.
"Regrettably we are left with more questions than answers," said Gowdy in a statement. His committee would need to see Clinton's server, answer "serious questions about the security of the system she employed from a national security standpoint," and interrogate her further.
"Because Secretary Clinton has created more questions than answers, the Select Committee is left with no choice but to call her to appear at least twice."
Gowdy didn't use the questions/answers cliche because he ran out of words. First off, the press conference really did leave lingering questions about how the woman who'd been fifth in line for the presidency from 2009 to 2013 communicated with staff. Second, Republicans are happy to stoke Democratic angst about the Clinton restoration.
That wasn't obvious when the story broke. Few of the party's likely 2016 candidates rushed to speak on the controversy, and they had their reasons. When Wisconsin Governor Scott Walker finally weighed in, in an Monday interview with the Weekly Standard's John McCormack, the conservative outlet had to note that Walker, too, once had a private e-mail system.
Other Republicans eased into the matter, saying it was proof that the former secretary of state was shameless–and adding that Democrats were shameless enough to support her. At a weekend speech to Young Republicans in Iowa, former Hewlett-Packard CEO Carly Fiorina said Clinton would survive and campaign on because she did not know any better.
"Hillary Clinton is a woman with no accomplishments, and we need someone who is prepared to say that," said Fiorina. (She'd previously dared Clinton to "name an accomplishment," and this line went further.) "This e-mail flap? It will not derail her candidacy."
After the speech, Fiorina explained that Clinton would continue to lead the Democrats no matter what  erupted. "I think others may choose to run, but I don't think she will choose to withdraw as a result of this," she said. "There are others who are saying: Wow, she can't possibly move forward with her bid because of this scandal! She's going to move forward with a bid. She doesn't think of it as a scandal."
Today, in an interview with Buzzfeed's McKay Coppins, Louisiana Governor Bobby Jindal hit Democrats from another direction. "Not that the Democratic Party wants my advice, but I think it's a mistake to automatically assume she's going to be their nominee," he said. "There's just a pattern here where bad things happen on her watch and she doesn't take responsibility for it."
There's more than a little Br'er Rabbit in these comments. Republicans have no real worries about the other Democrats mentioned as contenders if Clinton decides against a 2016 run. And Gowdy had previously stated his intention to bring Clinton before Congress multiple times–he did so the day after the e-mail story broke. At the moment, Republicans are feeding a narrative that they can shape with far more ease than Hillary Clinton herself. The forseeable stories about how this Clinton controversy evokes every other Clinton controversy–they write themselves, with a little Republican help.
Before it's here, it's on the Bloomberg Terminal.
LEARN MORE