Pataki Takes a Swing at Walker Over Last Month's ISIS Comment
Comparing demonstrators to terrorists 'is just flat-out wrong,' former N.Y. governor says.
by and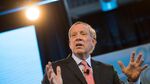 For former New York Governor George Pataki, anyone who compares union protesters to ISIS terrorists "is just flat-out wrong."
It was a barely veiled dig at Wisconsin Governor Scott Walker, who like Pataki is considering a run for the Republican presidential nomination.  Speaking last month to the Conservative Political Action Conference, Walker asserted that his disagreements with public unions in Wisconsin had prepared him to take on ISIS, saying, "If I can take on 100,000 protesters, I can do the same across the world."
Speaking Tuesday at the International Association of Fire Fighters conference in Washington, Pataki said that "any political figure who compares ISIS to demonstrators exercising their constitutional rights ... is just flat-out wrong." 
Pataki added that he had always made it a point to be respectful toward demonstrators, and mentioned that some in the crowd might have protested against him at some point. 
Pataki also kicked off his speech with a shot at Hillary Clinton, the presumed Democratic front-runner, by reading out a series of fake e-mails. 
Before it's here, it's on the Bloomberg Terminal.
LEARN MORE