Obama Faults Wisconsin Labor Law Backed by Scott Walker as Anti-Worker
John McCormick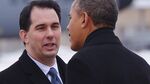 President Barack Obama said a labor law approved by Wisconsin lawmakers will hurt workers, and he faulted Governor Scott Walker, a potential Republican presidential candidate, for signing the measure.
Obama said in a statement that he's "deeply disappointed" in what he described as an "anti-worker law" that allows employees in union workplaces to opt out of dues and membership. The president said Walker, who approved the bill on Monday, should be searching for ways to boost pay.
"Wisconsin is a state built by labor, with a proud pro-worker past," Obama said in a statement Monday. "Even as its governor claims victory over working Americans, I'd encourage him to try and score a victory for working Americans –- by taking meaningful action to raise their wages and offer them the security of paid leave. That's how you give hardworking middle-class families a fair shot in the new economy –- not by stripping their rights in the workplace."
Democrats portrayed the legislation as an effort to weaken unions while increasing Walker's appeal to Republicans he would need to win his party's nomination in 2016. Republicans said it would free workers to choose, and would attract businesses.
Walker Response
Walker, in an e-mailed statement, said the president "should be looking to states, like Wisconsin, as an example for how to grow our economy."
"Despite a stagnant national economy and a lack of leadership in Washington, since we took office, Wisconsin's unemployment rate is down to 5.0 percent, and more than 100,000 jobs and 30,000 businesses have been created," Walker said.
At a bill-signing ceremony, Walker said that the idea for the legislation came from lawmakers, not the governor's office. Wisconsin became the 25th U.S. state to enact such a law, joining neighbors Iowa, Indiana and Michigan.
In 2011, Walker made a national name for himself -- becoming a villain to unions and a hero to Republicans -- by pushing through a law that removed collective-bargaining rights for most of Wisconsin's public employees.
That triggered protests by as many as 100,000, including some who occupied the Capitol in Madison during a weeks-long standoff. The protest generated by the right-to-work measure was tame by comparison, never drawing more than a few thousand.
'Powerful Interests'
In his statement, Obama tied the rise of the U.S. middle class to the success of unions.
"It's inexcusable that, over the past several years, just when middle-class families and workers need that kind of security the most, there's been a sustained, coordinated assault on unions, led by powerful interests and their allies in government," Obama said.
Walker signed the bill at Badger Meter Inc., a suburban Milwaukee manufacturer of flow measurement and control technology. Chief Executive Officer Rich Meeusen last week threatened to move jobs from the state if the legislation didn't pass.
"This is one more tool that will help grow good-paying, family-supporting jobs here in the state of Wisconsin," Walker said. "It's a huge incentive."
Before it's here, it's on the Bloomberg Terminal.
LEARN MORE