Marco Rubio, Horatio Alger, and the Republican-Donor Version of Class Warfare
Jeb Bush may be inevitable, but what self-made billionaire wants to bet on an entitled sure thing?
by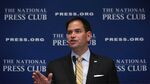 Marco Rubio's core political narrative begins with his grandfather, a man he called Papá, who was born in rural Cuba and contracted polio as a child. He spent most of his adult life as a laborer, struggling to provide for his seven daughters. In his older years, he'd hold court over his young grandson from an aluminum lawn chair, smoking a cigar, and telling stories about history and politics and baseball and what could have been.
Papá had pictured himself as the leader of a government or company, Rubio writes in the opening passage of his book, American Dreams, but he wasn't politically connected or wealthy. As his grandfather lay dying, Rubio held his hand and made a promise: "I was going to study. I was going to make something of myself. I would not waste the opportunity I had to achieve my dreams."
Rubio's bootstrap story, the central plot of his two books, is stump-speech-ready and embodies the Republican vision of the American dream, a theme woven through Horatio Alger Jr.'s 19th century novels. But its most potent audience is its smallest: the tiny group of self-made superrich donors who are going to finance the greater part of the 2016 Republican campaign, and who could go a long way to helping achieve Rubio's goal of raising $50 million this year.
Jeb Bush's storyline is one of inevitability, of an unstoppable juggernaut that leaves donors no choice but to jump on board. Thus far, it's been a colossal success. But, especially at the highest level, giving is not exclusively about winning. It's an act of risk, of passion, of creativity, and also of narcissism. The self-made multimillionaires and billionaires who write the biggest political checks of all tend to be reflexively turned off by privilege and connections, according to three top Republicans who raise money for outside groups. All of this leaves a candidate like Marco Rubio and his dewy American story a surprisingly wide opening—one that his campaign has noticed.
"Rubio's inspiring story has an emotional connection with a lot of donors who have made it on their own," Wayne Berman, a Washington-based Republican fund-raiser who is helping the senator build a finance team in preparation for a run. "It's what they consider great about America and what they want to see embodied in a president." 
Super-donors like Sheldon Adelson, Richard DeVos and Joe Ricketts fit this mold. Buy-in from even one or two of them, through a supportive super-PAC that can accept checks of unlimited size, would enable Rubio to fund a serious Republican primary campaign against Bush, who was a mentor when Bush was Florida governor and Rubio was an ambitious young local politician. 
Bush is expected to raise more money than any other potential Republican candidate, as much as $100 million just in the first three months of this year, with enormous tranches of Wall Street money along with fundraising networks his family has been cultivating for decades. Rubio's goals are more modest, comparatively. Some of his supporters say his aim is to raise enough money to place well in the early primary states, after which success could open other checkbooks.
Rubio has been telling his childhood story relentlessly in the luxe provinces where Republican money meets to vet their candidates. In January, he shared it at the Koch brothers' donor summit at the Ritz Carlton resort near Palm Springs. "There's no doubt his story connected with the audience, and some of our members will choose to support him," said Marc Short, president of Freedom Partners, which hosted the Koch event. The reason, he said, is that many in that room have their own stories of humble beginnings. They're not trust-fund babies or well-credentialed CEOs of publicly traded companies. By and large, they are private business owners who built their companies from the bottom up and became politically active because they worry that what they see as excessive taxes and government regulations would prevent them from making it now. 
And last weekend Rubio joined Bush and other Republican presidential hopefuls in talking to top-tier donors to the American Enterprise Institute World Forum on the Sea Island, Georgia, resort. The attendance list was a who's who of potential Republican presidential benefactors. Rubio's speech to this group was framed around his upbringing and how it influenced his policy.
Some of the biggest names among Republican donors may be especially susceptible to Rubio's Horatio Alger sell. Sheldon Adelson, who had dinner with Rubio last week in Washington, grew up poor in Boston and began working when he was 9, repairing bicycles and selling newspapers. He has been an entrepreneur his whole life, helping make Las Vegas a convention hotspot and Macau a gambling destination. He's currently the the 29th richest person in the world, according to the Bloomberg Billionaires Index, worth more than $26 billion.
And he's an all-in style political investor. His family put more than $15 million into a super-PAC supporting Newt Gingrich's failed 2012 Republican primary bid against a well-pedigreed and in many ways consensus candidate, Mitt Romney. Adelson had a long, personal relationship with Gingrich, the former speaker of the House. Adelson's political adviser, Andy Abboud, told Bloomberg Politics that the casino mogul likely won't wade into primary politics until next year, but there are signs he's keen on Rubio.
The two have met personally several times, and two of Adelson's relatives--a son-in-law and a daughter--are top Rubio contributors, having given a combined $20,400 in December to political committees he set up. (Those committees, unlike super-PACs, adhere to contribution limits.)
Norman Braman, a Miami auto dealer and former owner of the Philadelphia Eagles football team, said in an interview that if Rubio runs for president, he'll offer "substantial support" to any super-PAC formed to support him. Braman has watched Rubio's career for years and admires his political fortitude--to win the Senate seat, he defeated a popular and well-funded former governor in the 2010 Republican primary--and policy chops.
"He certainly wasn't born with a silver spoon in his mouth, and of course that also appeals to me," Braman said. His own parents were Jewish immigrants, a seamstress and a barber, and he began working as a teenager. Rubio's upbringing, Braman surmised, fostered in him "a type of leadership that this country so desperately needs and requires."
Rubio's upbringing also struck George Seay, a Dallas money manager and Republican donor who counts Rubio as a personal friend. Seay's great grandfather was a farmer who went bust in the Great Depression. "Senator Rubio's roots are Cuban, and my family's roots are English/Scotch Irish/Scottish," he said in an interview, "but it's the same American story originating from different parts of the world."
Other Rubio targets also fit the up-from-nothing demo. Joe Ricketts, who founded TD Ameritrade and whose family owns the Chicago Cubs, has become one of the biggest Republican donors, along with his wife spending about $9 million on last year's elections. He hasn't committed to any 2016 candidate, his spokesman said recently, although he's having personal meetings with each of them. His one-on-one with Rubio happened last week; Bush a few weeks earlier. Richard DeVos, the co-founder of Amway in Grand Rapids, Michigan, and his family would be a similarly huge win for any of the candidates.
Watching these early machinations with interest is an uncommitted admirer with the ability to unlock another tier of donors. "Marco Rubio has the potential to catch lightning in a bottle." Spencer Zwick, the financial architect of Mitt Romney's two campaigns for president, told Bloomberg Politics in a television interview last month.
Bundling money for an establishment candidate like Jeb Bush is a highly organized, quasi-corporate affair. Attracting a super-donor is a more mercurial process. Consider what happened for Rick Santorum in the beginning months of 2012. Going into Iowa, Santorum and a supportive super-PAC had raised a combined $3 million, compared to the Romney campaign-plus-super-PAC juggernaut's $87 million, Federal Election Commission reports from the end of 2011 show.
Then, Santorum eked out a victory in the Iowa caucuses.
Huge checks from a mysterious donor began to arrive to his super-PAC. "Some guy sent in a million dollars, we had no idea who he was," Foster Friess, the multimillionaire donor who ran Santorum's super-PAC, told Bloomberg Television at the time. "The money just suddenly appeared. No one made a call."
"Some guy" turned out to be William Doré, a Louisiana energy executive who'd grown up in a two-bedroom house with no hot water. As Santorum surged to unexpected primary victories in places like Colorado and Missouri, the Doré checks kept coming. By the end of the primary, he'd become one of Santorum's  top two donors, having given the super-PAC $2.25 million. 
Before it's here, it's on the Bloomberg Terminal.
LEARN MORE