Iowa Republicans Say Obama Helped Walker by Calling Him Out
The governor should talk about his confrontation with the president as much as possible, they say.
by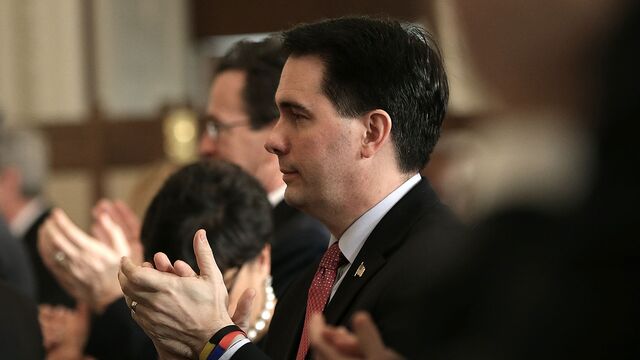 President Barack Obama may have done Scott Walker a political favor. At least that's the early read by Republicans in Iowa, a state viewed as crucial for the Wisconsin governor's potential presidential bid.
"If the president keeps up his attacks on Governor Walker and his policies, the governor may have to count it as an in-kind contribution to his Iowa caucus campaign," said Matt Strawn, a former chairman of the Republican Party of Iowa. "Among Iowa Republicans, who measure a candidate's fidelity to the conservative cause by the critics they collect on the left, being attacked by the president and his liberal allies is the gold standard."
In a rare move of directly criticizing a single governor and also inserting himself into Republican presidential politics, Obama issued a statement Monday night sharply critical of Walker, who earlier in the day had signed so-called right-to-work legislation into law.
The president said he's "deeply disappointed" in what he described as an "anti-worker law" that allows employees in union workplaces to opt out of dues and membership. Walker should be searching for ways to boost pay, Obama said.
Following the White House statement, Walker's political operation tried to go on the offense on the issue today with a statement.
"Democrats and special interests will make every attempt to derail the common sense reforms Governor Walker and the Republican legislature implemented in Wisconsin," said Kirsten Kukowski, a spokeswoman for Walker's Our American Revival political committee. "Americans want bold leaders, which is much more than we can say for Democrats in Washington, D.C."
Walker had appeared poised to play down his role in passing the legislation before Obama made his move. At his signing ceremony Monday, Walker said the push for the right-to-work bill, passed last week by the legislature, came from lawmakers themselves.
"Our leaders here led," he said during a ceremony in Brown Deer, Wisconsin. "It was the leadership you see here who drove the train on this."
In Iowa, where the nomination race starts and right-to-work has been the law since 1947, Republicans say Walker should talk about Obama's confrontation of him as much as possible.
"Republicans in Iowa are applauding Scott Walker for signing this strong right to work legislation and they see President Obama's unusual tactic of hitting the governor from the White House as a message that could actually unite Republicans around Walker on this issue," said Jamie Johnson, a member of the Republican Party of Iowa's state central committee who isn't aligned with any 2016 candidate.
Even Iowa political operatives aligned with other candidates agree Obama did Walker a favor. "It is going to further endear him to Iowa conservatives, no question about it," said one Iowa Republican aligned with former Florida Governor Jeb Bush.
Before it's here, it's on the Bloomberg Terminal.
LEARN MORE