Hillary Clinton Defends E-mail Practices, and Draws a Line
The former secretary of state says she permanently deleted many of her own personal e-mail messages from the private server.
by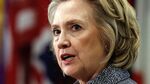 Hillary Clinton offered detailed explanations Tuesday for the way she used a private e-mail account and server while she served as secretary of state, but her assertion that she had met all her obligations to release her correspondence failed to satisfy skeptical Republicans.
In a hastily called press conference in a hallway at the United Nations, Clinton said she had turned over printed copies of thousands of work-related e-mails to the State Department but that she had gotten rid of thousands of other personal e-mails on the server. "I have met all of my responsibilities and the server will remain private," she said.
Her decision to use private e-mail was for convenience, Clinton said. "I thought it would be easier to carry just one device for my work and for my personal e-mails instead of two."
But Representative Trey Gowdy, who has subpoena power as the Republican leading the House committee investigating the 2012 attacks in Benghazi, said Tuesday that he was not satisfied and still wanted a third party to examine her server to ensure that she had turned over all relevant e-mails to the panel and to the State Department.
Speaking to more than 100 reporters, Clinton sought to explain why she used a personal account, how she used that account and whether it had been sufficiently secure, all in hopes of pushing back on at least some of the scrutiny she has faced since March 2, when the New York Times first reported on her e-mail practices.
Clinton said repeatedly that she regrets her decision to use a single e-mail address. "Looking back, it would've been better that I had simply used a second e-mail account and carried a second phone," she said. "But at the time this didn't seem like an issue."
Convenience was the only factor that Clinton cited in explaining her decision as she took the helm at State in 2009, and she did not discuss whether there was any concern then among her aides that the single account would later prove to be a liability.
Clinton stressed Tuesday that she adhered to all the relevant federal records laws and policies during her four years in the Obama administration by saving and handing more 30,490 work-related messages to the State Department that were identified by a "thorough process" run by her staff. 
She chose to delete the 31,830 messages that her team deemed personal and private, out of respect for her own privacy and the privacy of those with whom she was corresponding. "I chose not to keep my private personal e-mails–e-mails about planning Chelsea's wedding or my mother's funeral arrangements, condolence notes to friends as well as yoga routines, family vacations, the other things you typically find in inboxes," she said.
"No one wants their personal e-mails made public, and I think most people understand that and respect that privacy," she said.
Clinton asserted that her messages had been secure since her server had originally been used for former President Bill Clinton's e-mail traffic, had "numerous safeguards" and was physically secured by the Secret Service at her home in Chappaqua, N.Y.. The account, she said, was never hacked and she "did not e-mail classified material."
After the news conference, Clinton's office released a fact sheet offering more details on issues related to her e-mails and declined to say much about the security measures that were in place because "given what people with ill-intentions can do with such information in this day and age, there are concerns about broadcasting specific technical details about past and current practices."
Her office offered a 'trust us, it's safe explanation,' writing: "suffice it to say, robust protections were put in place and additional upgrades and techniques employed over time as they became available, including consulting and employing third party experts."
One outstanding question was whether Clinton had used her e-mail account to communicate with foreign officials, and her office said that its review of her archives found only one message to a foreign official, from the United Kingdom. Otherwise, she "communicated with foreign officials in person, through correspondence, and by telephone."
Asked during the news conference about her views on questions about the Clinton Foundation's acceptance of foreign governments such as the United Arab Emirates and Saudi Arabia that have dismal records on women's rights–another issue that flared in recent weeks–Clinton held firm. "I'm very proud of the work the foundation does," she said. 
Just before Clinton's news conference, the State Department was in the midst of reviewing the 55,000 pages worth of correspondence that Clinton had turned over to fulfill her obligations under the Federal Records Act. Department spokeswoman Jen Psaki said that state would also turn over e-mails pertaining to the Benghazi terrorist attacks to the House Select Committee investigating the U.S. government response to the incident.
Clinton and some of her closest advisers hoped that the issue would fade and that she could postpone an extensive accounting of her e-mail practices until after she launches her presidential campaign, almost certainly in April.
But as the story stayed alive over the weekend, the pressure for her to speak out only intensified, as a small but influential group of Democrats began publicly urging her to speak out. Clinton's plans started coming into focus Monday afternoon, as allies confirmed that she needed to answer questions to have any hope of moving on.
The United Nations is an unusual setting for a U.S. political press conference, and simultaneously gave Clinton's team an easy way to control access to the event and while offering a convenient contrast between her discussion of women's rights issues inside the meeting room of the UN Economic and Social Council and the political event in a hallway.
In her speech, Clinton addressed the progress made on women's rights in the two decades since the UN's 1995 Beijing conference. Speaking ahead of Clinton, UN Women executive director Phumzile Mlambo-Ngcuka referred to Clinton as a "future president," drawing big cheers.
The scene ahead of Clinton's speech was chaotic as political reporters spent the morning waiting in line for UN credentials and scrambling to confirm the time and location of Clinton's availability. No official information was forthcoming until close to noon, when Clinton spokesman Nick Merrill began responding to journalists' questions.
Merrill described what was planned as "a brief press conference," though it ultimately went for just over 20 minutes. 
The scene also hearkened back to Clinton's 1994 "pink press conference," when she tried to respond to pent-up tensions about Whitewater and other controversies by addressing reporters' questions from the State Dining Room of the White House. 
Back then, she told reporters that her sense of privacy "led me to perhaps be less understanding than I needed to of the press and the public's interest–as well as right–to know things about my husband and me."
Before it's here, it's on the Bloomberg Terminal.
LEARN MORE