Back to the Future: Voters Crave 'Change' for 2016, Poll Finds
A higher percentage of voters indicated that change was important than did in the run up to the 2008 contest.
by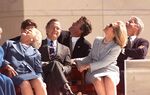 Here we go again. 
Fifty-nine percent of registered voters say they want a candidate who will bring greater changes to current policy than one who does not, a new NBC News/Wall Street Journal poll finds. That number is even higher than the 55 percent of voters who said they craved change in the 2008 contest between Barack Obama and John McCain. 
With change once again asserting itself as a key factor in the upcoming election, two candidates—Jeb Bush and Hillary Clinton—could face challenges when it comes to connecting with voters on that issue. 
The son of President George H.W. Bush, and the brother of President George W. Bush, Jeb Bush's name appears to carry an association with the past. Sixty percent of those surveyed said that "Bush represents a return to the policies of the past," while just 27 percent said he would usher in "new ideas and a vision for the future." 
Former first lady, senator, and secretary of state Hillary Clinton, does only slightly better when it comes to the question of change. Fifty-one percent of registered voters said "Clinton represents a return to the policies of the past," while 44 percent say she will usher in new ideas. 
Just 32 percent of those questioned said they thought the country was heading in the right direction, as opposed the 60 percent who said the nation was "off on the wrong track." Still, President Obama's approval rating came in at 46 percent, with 50 percent saying they disapproved of the job he is doing. More Americans (48 percent), however, said they were optimistic about the economy than those were not (46 percent). 
Before it's here, it's on the Bloomberg Terminal.
LEARN MORE