Obama Blasts Republicans Over Letter to Iranian Leadership
Toluse Olorunnipa and Justin Sink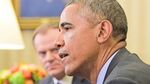 The Obama administration denounced a letter sent by 47 Republican U.S. senators to political leaders in Iran as an attempt to undermine the president on a foreign policy matter for political purposes.
The open letter addressed to the leaders of the Islamic Republic warned that any agreement they struck with President Barack Obama on their nuclear program could be reversed by his successor or changed by lawmakers in the U.S.
"It's somewhat ironic seeing some members of Congress wanting to make common cause with the hardliners in Iran," Obama said during an appearance Monday at the White House with European Council President Donald Tusk. "It's an unlikely coalition."
The rare attempt by lawmakers to put themselves in the middle of diplomatic negotiations is the latest flashpoint between congressional Republicans and the president over talks involving the the U.S. and five other world powers aimed at keeping Iran from obtaining a nuclear weapon. Last week, Israeli Prime Minister Benjamin Netanyahu, appearing at the invitation of Republican House Speaker John Boehner and without consulting the White House, used an address to Congress to warn against a deal with Iran.
Making a Case
Obama said that the U.S. would focus on whether an agreement is possible with Iran over the Islamic Republic's nuclear program. If the administration determines that a deal can be carried out, "then we'll be able to make the case to the American people."
White House press secretary Josh Earnest called the letter a "continuation of a partisan strategy to undermine the president's ability to conduct foreign policy and advance our national security interests." He accused the senators of "seeking to establish a back channel with the hard-liners in Iran" to scuttle the talks.
Vice President Joe Biden said the letter is designed to undercut Obama.
"This letter, in the guise of a constitutional lesson, ignores two centuries of precedent and threatens to undermine the ability of any future American president, whether Democrat or Republican, to negotiate with other nations on behalf of the United States," Biden said in a statement.
'Stopping Iran'
Senator Tom Cotton, an Arkansas Republican who drafted the letter, brushed aside criticism from Biden and other Democrats.
"This is about stopping Iran from getting a nuclear weapon," he said Tuesday on MSNBC's "Morning Joe" program. "Iran's leaders need to understand that any deal that gives them a path to a bomb, today, tomorrow, 10 years, 15 years from now, will not be accepted by the United States Congress."
Senator John McCain, the chairman of the Armed Service Committee and one of the signatories, called the administration response "an overreaction by a hysterical White House." The Arizona Republican said he's communicated "thousands of times" with foreign leaders on matters of interest to the U.S.
Senator Richard Shelby of Alabama, another signer, said there was nothing improper in senators stating their positions.
"There's not a lot of confidence in the Senate that the president is going to strike a strong, good deal with Iran," he said in an interview.
In their letter, the Republican senators said that any deal agreed to by the Obama administration may not be binding once Obama leaves office in less than two years.
Modify Terms
"We will consider any agreement regarding your nuclear-weapons program that is not approved by the Congress as nothing more than an executive agreement between President Obama and Ayatollah Khamenei," said the letter, referring to Iran's supreme leader, Ayatollah Ali Khamenei.
The letter said, "The next president could revoke such an executive agreement with the stroke of a pen and future Congresses could modify the terms of the agreement at any time."
Iranian Foreign Minister Javad Zarif dismissed it as propaganda and said the letter writers don't understand international law or their own Constitution's language on presidential powers in conducting foreign policy, according to a report by the Islamic Students News Agency.
"It is astonishing that some Congress members find it appropriate to write to leaders of another country against their own president and administration," Zarif said, according to the report.
Divisions Exposed
While the letter will probably have limited impact on the negotiations, it underscores division within the U.S. government that "Iranian negotiators could use in their interests," said Simond de Galbert, a visiting fellow at the Center for Strategic and International Studies in Washington who has worked on Iranian nuclear negotiations in the past.
"I am sure that Iranians know the U.S. Constitution and politics well," he said. "They're aware that the president may not need congressional approval to suspend sanctions at the early stage of the agreement."
The U.S. and its international partners face an end-of-month deadline to reach an agreement with Iran on a framework for a deal on its nuclear program. Secretary of State John Kerry is scheduled to travel to Switzerland on March 15 to resume talks with Zarif.
Senate Foreign Relations Chairman Bob Corker, whose committee is set to vote later this month on legislation that would require congressional approval for any nuclear deal with Iran, didn't sign the letter. The White House has vowed to reject the legislation, and Corker is trying to round up enough Democratic votes to override a veto.
'Hard Slap'
"I just felt like as the chairman of the committee who's working with the ranking member and others to get to a place where we had 67 votes, it was probably not something that was going to be helpful in that effort," the Tennessee Republican said.
Some of Obama's Democratic allies in Congress weighed in as well. Senate Minority Leader Harry Reid, a Nevada Democrat, called it a "hard slap" at the U.S. and its allies.
"It's unprecedented for one political party to directly intervene in an international negotiation with the sole goal of embarrassing the president of the United States," Reid said. "Do you so dislike President Obama that you would take this extraordinary step?"
Obama and White House officials have said the likelihood of reaching a deal is no more than 50 percent. Obama said in an interview with CBS on Saturday that he's prepared to walk away from the talks with Iran if the government in Tehran won't meet terms limiting its nuclear capabilities and submit to verification.
Earnest described the letter as a Republican strategy to lower those odds as the deadline nears.
"The letter is couched in all these terms of trying to provide a civics lesson to Iran's political leadership," Earnest said. "But the fact is they're against a deal."
Before it's here, it's on the Bloomberg Terminal.
LEARN MORE