Lindsey Graham Explains Why He Doesn't Use E-mail
The luddite question heard 'round the world.
by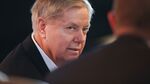 CONCORD, N.H.—It was not the news that South Carolina Senator Lindsey Graham went on TV to make. Meet the Press host Chuck Todd, who like the rest of Washington was exploring every angle of the Hillary Clinton e-mail kerfuffle, asked Graham if he had a private e-mail address. 
"I don't e-mail," said Graham. "No, you can have every e-mail I've ever sent. I've never sent one."
That went viral, funny enough, on the weekend of Graham's first trip to New Hampshire as a potential presidential candidate. After a marathon town-hall meeting in Concord's Snow Shoe Lodge, the Republican held a gaggle with reporters, and Fox News lobbed a question about the e-mail. Graham repeated himself: He did not use e-mail. He preferred to talk on the phone.
"The next president of the United States needs to be good with people, not just technology," he said.
After that exchange, Graham responded to a question about Clinton with a joke: "If she could do it again, she'd do the Lindsey Graham thing, and not use e-mail." As he headed to his car, I asked Graham to explain his communication methods, a subject that truly baffled a press corps that walks around with smartphones welded to hands.
"What I do, basically, is that I've got iPads, and I play around," Graham explained. "But I don't e-mail. I've tried not to have a system where I can just say the first dumb thing that comes to my mind. I've always been concerned. I can get texts, and I call you back, if I want. I get a text, and I respond not by sending you a text, but calling you if I think what you asked is worthy enough for me calling you. I'm not being arrogant, but I'm trying to jealously guard myself in terms of being able to think through problems and not engage in chat all day. I've had a chance to kind of carve out some time for myself not responding to every 15-second crisis."
Before it's here, it's on the Bloomberg Terminal.
LEARN MORE