Klobuchar: Expect to Hear from Clinton on E-mails Soon
The Minnesota Democrat says it's important that Clinton address the issue.
by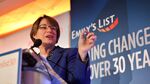 Democratic Senator Amy Klobuchar said Monday she expects to hear more from former Secretary of State Hillary Clinton on her private e-mail use as soon as this week.
"I think that you're going to hear something from Senator Clinton this week," she said on MSNBC's Morning Joe. "I'm fairly certain it will be soon. And I think that's very important."
The Minnesotan's comments come after fellow Senate Democrat Dianne Feinstein of California said Sunday that Clinton, the presumptive Democratic presidential frontrunner, "needs to step up and come out and state exactly what the situation is."
Klobuchar said Clinton has made it clear she wants to expedite the State Department review of her messages and get them out as soon as possible. "One thing people forget here is that she did release those 55,000 e-mails to the State Department before any of this blew up," she said.
Clinton said in a tweet last week—her only public comments on the controversy so far—that she wants the public to see her correspondence. Representatives have denied that her practices constituted wrongdoing.
Joining Klobuchar on the TV program, Republican Senator John Cornyn of Texas said, "There are federal laws in place and she needs to get this behind her. I'd like to hear what she has to say and I think she needs to be fully transparent."
Laura Curtis and Elizabeth Wasserman contributed to this report. 
Before it's here, it's on the Bloomberg Terminal.
LEARN MORE