Florida's Death Penalty Rules Get Supreme Court Review
Greg Stohr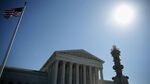 The U.S. Supreme Court will rule on the constitutionality of Florida's system for imposing the death penalty, agreeing to hear an appeal from a man convicted of killing a coworker at a fast-food restaurant.
Lawyers for Timothy Lee Hurst argue that a jury, not a judge, should have decided whether he was mentally disabled and therefore ineligible for the death penalty.
The case may affect more than 20 states that Hurst's lawyers say have similar systems. Florida has 404 inmates on death row, second only to California, according to the Death Penalty Information Center, which collects data on capital punishment.
The appeal seeks to extend a line of Supreme Court decisions that have expanded the U.S. constitutional right to a jury trial. The court said in a 7-2 ruling in 2002 that juries must make the factual findings that support a death sentence.
Hurst's appeal says that reasoning should include cases in which a defendant seeks to be exempted from the death penalty because of mental incapacity.
"The jury must find those facts essential to determine whether a defendant should live or die," his lawyers argued.
Florida officials, led by Attorney General Pamela Jo Bondi, argue that the requirement of a jury finding "does not apply when a trial court is presented with facts that a lower sentence should be imposed."
Hurst also contends that a jury's recommendation of death must be unanimous. In his case, seven of the 12 jurors recommended he die.
Hurst was convicted of the 1998 murder of Cynthia Lee Harrison, a manager at a Popeye's Fried Chicken restaurant in Escambia County, Florida. Harrison had been bound, gagged and stabbed several times.
The court will rule in the case during the nine-month term that starts in October. The case is Hurst v. Florida, 14-7505.
Before it's here, it's on the Bloomberg Terminal.
LEARN MORE