Clinton Likely to Address E-Mail Controversy This Week
A source says that a press conference is likely in the coming days.
by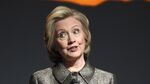 Hillary Clinton is expected to face the questions swirling around her use of a private e-mail address in the coming days as she faces pressure to explain herself as she prepares to launch a presidential bid.
Two sources close to Clinton said Monday that the former secretary of state will likely hold a press conference in an effort to push back on a week of speculation about why she used the private account instead of one hosted by the State Department. It would also present an opportunity for Clinton to defend her family foundation's acceptance of contributions from foreign donors during and after her time at State.
A press conference addressing perceived secrecy and potential ethical lapses isn't what Clinton wants to be doing in mid-March, and she and some of her close advisers had hoped to put off answering questions about her e-mail account until she formally launches her campaign, almost certainly in April. But their desire to ride out the storm was overtaken by a sense that their initial attempt to let some air out of the controversy—via a tweet conveying Clinton's request for the State Department to release her e-mails—hadn't done enough to ease the tension.
Clinton hasn't held a press availability since she was at former Senator Tom Harkin's steak fry in Indianola, Iowa, in September. Since then, she's typically weighed in on issues of the day during the question-and-answer sessions that are often part of her paid speaking engagements. But her next paid speech isn't until March 19—10 days and even more news cycles away. In the meantime, Clinton's next public event is a Tuesday speech on women's rights at the United Nations—hardly the right forum her response.
Still, Clinton allies are continuing to downplay the severity of the situation. Lanny Davis, who served special counsel in the Clinton White House said Monday on Bloomberg Politics' With All Due Respect that it ranked "down about where the Travel Office was ... this would be way, way behind Whitewater in my opinion."
Clinton's answers, he said, would show that she had done "nothing nefarious" and that her use of a single e-mail address was "purely convenience."
Before Clinton's plans began coming into focus Monday afternoon, a growing number of Democrats began coming forward to urge Clinton to take on the issue, rather than letting it fester.
"There's no doubt that she's given oxygen to this story by not just coming out and forthrightly saying, 'this is why we did it, this is how these e-mails were secured,' and answering the other questions so as to kind of get past this," former Obama senior adviser David Axelrod said on MSNBC.
Earlier Monday, Senator Amy Klobuchar of Minnesota had hinted at what Clinton was considering, saying on MSNBC: "I think that you're going to hear something from Senator Clinton this week.... I'm fairly certain it will be soon. And I think that's very important."
Senator Dianne Feinstein of California said Sunday that Clinton needed to "step up" and that "the silence is going to hurt her."
CNN and Politico also reported on Clinton's plans. Clinton's spokesman didn't respond to a request for comment.
Before it's here, it's on the Bloomberg Terminal.
LEARN MORE