Netanyahu Rules Out Territorial Concessions 'At This Time'
Gwen Ackerman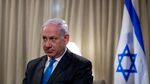 Prime Minister Benjamin Netanyahu's Likud party made clear Sunday that the Israeli leader has no intention of ceding territory as part of a peace process in the near future.
"With the current situation in the Middle East, any withdrawal from territory by Israel is sure to be met with Islamic extremism and terrorism supported by Iran," his party said in a text message.
Netanyahu's position is that speaking "of concessions and withdrawals at this time is simply irrelevant," the Likud statement added.
The statement came as Channel 10 reported that several years ago a senior Netanyahu aide voiced readiness to return to the nation's 1967 borders in a meeting with former U.K. Prime Minister Tony Blair, who has served as an Mideast envoy for the U.S., Russia, European Union and United Nations.
Israel holds elections on March 17, when voters will decide whether to give Netanyahu a fourth term. Polls show Netanyahu's party winning the same number of seats as the Zionist Union, a party led by Isaac Herzog, who has criticized the prime minister for increasing tensions with the U.S. over Iran's nuclear program.
Israel captured the West Bank, east Jerusalem and the Gaza Strip in the 1967 Middle East war. It has since pulled out of the Gaza Strip, which is now ruled by Hamas, considered a terrorist group by the U.S., Israel and the EU. The Palestinians seek all three territories for an independent state.
Talks with the Palestinians stalled last year. Palestinian President Mahmoud Abbas said on March 4 that he was ready to return to the negotiating table if Israel freezes construction in West Bank settlements and frees a fourth batch of prisoners.
Before it's here, it's on the Bloomberg Terminal.
LEARN MORE