Jeb Bush Negotiating with Amazon on Release of E-Mail Inspired E-Book
The backbone of the proposed book would be e-mails the former Florida governor sent and received while in office.
by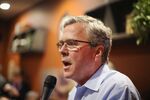 The way things are shaping up, how a candidate uses e-mail may just turn out to be the biggest issue of the 2016 presidential election. 
Jeb Bush is in negotiations with Amazon.com over the release of a memoir that is told, in part, through the e-mails he received while serving as Florida's governor, the Washington Post reports. 
Bush has already released the first chapter of the book at the aptly titled website, www.jebbushemails.com. In it, Bush lays out the premise for the literary project.
The best ideas would come from outside of our state capital. From Floridians. But now that the campaign was over, how could I keep track of what Floridians were thinking? I needed their energy and passion and wisdom.

 Email.

Everyone could email me.

So they did. Millions of emails came in through our website, but it was when I made my personal email – jeb@jeb.org – public that I earned the nickname "The eGovernor." 
While Bush has been critical of former Secretary of State Hillary Clinton's e-mail behavior, as the quote above shows, Bush also used a private account and a private e-mail server when he was in office. Like Clinton, Bush turned over thousands of pages worth of e-mail correspondence, and, like Clinton, the use of a private server is providing critics with plenty of reason to doubt whether every pertinent message still survives. 
For Bush, the creation of a website where people can browse some 250,000 e-mails sent and received when he was governor has been billed as an act of "transparency." 
"I am posting the emails of my governorship here," Bush says on the site. "Some are funny; some are serious; some I wrote in frustration. But they're all here so you can read them and make up your own mind."
The deal for the new book, with e-mail correspondence at its core, could not come at a better time for the presumed presidential candidate. It will be his first literary effort since his 2014 debut, Immigration Wars: Forging an American Solution, but it also makes Bush look pro-active on the e-mail question in comparison to Clinton. 
E-mail also provided Bush, who is a self-described "introvert," a way to communicate directly with his constituents. That may also help distinguish him from some Republican rivals, such as South Carolina Senator Lindsey Graham, who on Sunday told Meet the Press he had "never sent" an e-mail. 
Before it's here, it's on the Bloomberg Terminal.
LEARN MORE