Feinstein: Clinton 'Needs to Step Up' on E-mail Controversy
The Democrat calls for more clarity from her party's presidential frontrunner.
by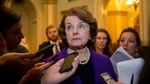 Democratic Senator Dianne Feinstein says former Secretary of State Hillary Clinton, the frontrunner for their party's presidential nomination in 2016, should more clearly address her use of private e-mail in office.
"What I would like is for her to come forward and say just what the situation is, because she is the preeminent political figure right now," Feinstein said in an interview that aired on NBC's Meet the Press on Sunday. "She is the leading candidate, whether it be Republican or Democrat, for the next—to be the next president, and I think that she needs to step up and come out and state exactly what the situation is."
Host Chuck Todd asked Feinstein whether she thought "the silence is hurting" Clinton, who has not yet formally announced a second bid for the White House. Clinton's only public comment on the controversy since it erupted Monday was a tweet Wednesday night in which she said she had asked the State Department to release her e-mails for the public to see.
"I think at this point, from this point on, the server—the silence is going to hurt her," Feinstein said.
Before it's here, it's on the Bloomberg Terminal.
LEARN MORE