Benghazi Panel Members Spar Over Whether to Release Clinton's E-mails
Chairman Trey Gowdy says he isn't yet satisfied.
by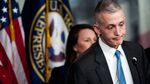 Members of a House committee investigating the 2012 Benghazi attack tussled Sunday over whether they should release the committee's cache of messages from former Secretary of State Hillary Clinton's private e-mail account.
Representative Trey Gowdy, the South Carolina Republican chairing the panel, said he didn't plan to release the Clinton e-mails the State Department has already given the committee yet because "we don't have all of them."
"It's frankly not fair to the secretary, not fair to your viewers or my fellow citizens to selectively release information," he said on CBS's Face the Nation. 
Democratic committee member Adam Schiff of California said Republicans' call for more e-mails amounts to grandstanding and is the result of pressure from GOP organizations.
"She was giving us everything we asked for," he said on CNN's State of the Union. "Nothing changed, except that the pressure on the Republican members of the committee this week became too great for them to resist from the Stop Hillary PAC people and the RNC people."
"Now, the secretary has called for those records to be made public," he added. "Why isn't the chairman doing that? Why aren't we doing that? The reason is, we have read them. There's nothing in them."
Schiff was joined defending Clinton by Democratic Senator Chuck Schumer of New York, who said on CBS that in six months the controversy will look like "a slight hiccup, a small bump in the road."
Representative Darrell Issa, a California Republican who also investigated the Benghazi attack when he led the House Committee on Oversight & Government Reform, said Clinton did not "break a law for which there is a penalty" and defended the committee's move to issue subpoenas for her messages.
"A subpoena, which Trey Gowdy issued, is so that in fact it will be a crime if she knowingly withholds documents pursuant to subpoena," Issa said on CNN.
Before it's here, it's on the Bloomberg Terminal.
LEARN MORE