Steve King: 'I Don't Know' If It Was a Mistake for GOP Leaders to Skip Selma
The lawmaker cites his feeling of being unwelcome by the Congressional Black Caucus as an example of "cultural frictions."
by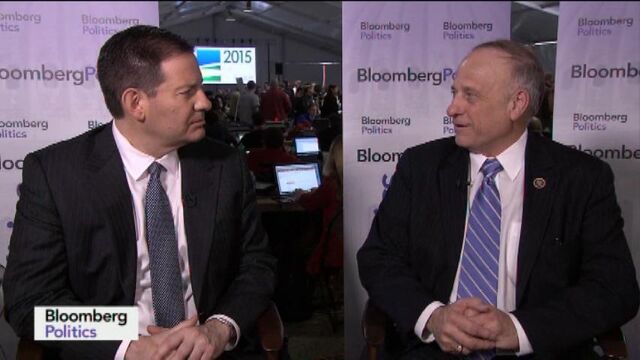 Representative Steve King declined to say whether it was a mistake for leading Republicans to skip Saturday's commemoration of the Selma march, but said that "cultural friction" lingers in the country.
"I don't know if it's a mistake, but there is still that bit of cultural friction that's there," the Iowa Republican said Saturday during an interview with Bloomberg Politics' Mark Halperin at the Iowa Agricultural Summit in Des Moines. He suggested that the friction makes some people feel unwelcome in certain situtations.
Only one member of the GOP leadership team, House Majority Leader Kevin McCarthy, is in Alabama to mark the 50th anniversary of the march and violence on the Edmund Pettus Bridge. King cited his own relationship to the Congressional Black Caucus as an example of continuing divisions.
"I mean, if I walk into the Congressional Black Caucus—which I have done by mistake, by the way—and I look around there and, I have friends in there and people I like, but I also know that I'm not welcome in the Congressional Black Caucus."  
Asked why not, he replied, "Well, because I'm not an African American and that's really, that's it."
As for the legacy of Selma, and what Americans should reflect on today, King said that the country should be proud that, despite problems today, the country peacefully transitioned from "segregation then, to integration now."
"Yes, there was blood in Selma, and there was blood in other places, but compared to transformations in other countries, it was comparatively bloodless," King said. "An amazing thing happened to the American civilization because of the civil rights demonstrations of Dr. Martin Luther King Jr., who always kept the spirit of peaceful demonstration and the core of our Christian faith at the front of our demonstrations." 
Before it's here, it's on the Bloomberg Terminal.
LEARN MORE