Jeb Bush Focuses on Florida Record in Iowa Visit
One week after facing conservatives at CPAC, Bush is introducing himself to the party's base in Iowa.
by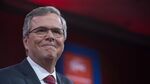 Jeb Bush kicked off a highly anticipated campaign swing through Iowa on Friday by raising money for a local Republican, trumpeting his record as a former governor, and suggesting to radio listeners that he'll compete for votes in the state despite his poor standing with the conservative base.
In his first trip to Iowa in three years, Bush said that he learned from campaigning with his family that his chances for success will increase with every visit. Bush's brother, George W. Bush, won the first-in the-nation caucuses in 2000, and his father, George H.W. Bush, won in 1980 and lost in 1988.
"The lesson learned that I took away from Iowa in my forays in there for my dad and my brother is that you've got to be all in," Bush said in an interview with Radio Iowa. "You've got to really take the time to meet people and campaign there actively one-on-one and on a personal level."
At an evening fundraiser for U.S. Representative David Young, Bush told about 100 donors that he "got to act on my conservative principles" as governor. He pointed to his record budget vetoes, the institution of the nation's first statewide voucher program (later dismantled by the Florida Supreme Court), and the elimination of affirmative action at state universities. "We were goin' and blowin', let me tell you," Bush said at Living History Farms, an agricultural museum in Urbandale, Iowa. "This conservative record of accomplishment, I think, is what's necessary right now for our country to get back on track."
Bush said the U.S. debt and entitlement programs, left unchecked, are a threat to economic growth. "It's going to be the Cookie Monster that you can't stop," he said.
He contended that the nation's global reputation has suffered under President Barack Obama, adding that that former Secretary of State Hillary Clinton, a likely Democratic candidate for president, "has let us down in that regard." 
Bush, who was Florida governor from 1999 to 2007, will spend Saturday meeting privately with conservative activists and visiting an agricultural summit in Des Moines, a barbecue restaurant in Waukee, and a pizza place in Cedar Rapids.
Bush appears to be the last potential Republican presidential candidate to visit Iowa this election cycle, giving his potential rivals a head start. More than a dozen potential candidates have visited Iowa since 2013, including former Texas Governor Rick Perry, whose 19 days in Iowa since the last presidential election outpace any other potential Republican contender, according to a tally maintained by Washington-based DemocracyInAction.
An "all-in" campaign for Bush in Iowa would suggest the former Florida governor believes he can change hearts and minds in the state. Nearly two-thirds of likely Republican caucus-goers said in a Bloomberg Politics/Des Moines Register Iowa Poll in January that Bush's support for legalizing undocumented workers and his backing of Common Core academic standards were deal-killers. Nearly three of every five Republican caucus-goers in 2012 described themselves as born-again or evangelical Christians.
Bush's outreach to the base so far has been to remind Republicans of the tax cuts, budget vetoes, and pro-life measures, such as his attempts to keep Terri Schiavo alive, that he took while he was Florida governor, and to argue that conservatives should embrace his immigration position.
It's a good moment for Bush on the video. Despite anxiety within the base over immigration reform, Bush's supporters—who packed the hall for his speech—cheer wildly throughout it. Not included in the web video was Bush's argument that conservatives should support immigration reform and focus "on growing the economic pie."
"We believe we should pursue our dreams as we see fit, and the more people doing it with the capacity to achieve earned success, the more economic growth will take place for all of us," Bush said at CPAC.
Bush's video also includes Bush's response to a question about Common Core, in which he says the federal government "has no role in the creation of curriculum and content."
Asked about the standards in Iowa, Bush said the standards should be rigorous, but ultimately decided by states. "Having accurate assessments of where kids are is tantamount, it is essential for success," Bush said.
"So I'm not going to back down on that," Bush said. "What I can tell you is the federal government shouldn't be involved in this. This is an Iowa deal. Governor Branstad believes in this and other governors, and that's where it should stay. The federal government shouldn't have a role in influencing, directly or indirectly, standards or curriculum or content."
 In the radio interview, Bush, who used his own private e-mail account as governor, questioned Clinton's use of a private e-mail account while serving as the United States' top diplomat. "For security purposes, you need to be behind a firewall that recognizes the world for what it is and it's a dangerous world and security would mean that you couldn't have a private server," Bush said. "It's a little baffling, to be honest with you, that didn't come up in Secretary Clinton's thought process."
The former governor also disputed the notion of "Bush fatigue" in Iowa.
"The Iowans I know are pretty thoughtful and want to get to know the candidates. They don't discount any of them," Bush said. "I'm going to go make my case and, once people know my record as governor and know my life experience, I think I'll get a fair hearing."
Before it's here, it's on the Bloomberg Terminal.
LEARN MORE