GOP Candidates Make Their Pitch To Iowa's Farmers
Presidential hopefuls try to balance rural interests and their appeal to the Republican base.
by , , and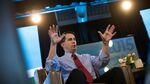 Jeb Bush defended his support for changing immigration policy, Ted Cruz described ethanol and wind subsidies as "corporate welfare" and Scott Walker said he supports the Renewable Fuel Standard, while calling for the eventual elimination of government support for biofuels and wind energy.
They were among nine prospective Republican presidential candidates who sold their rural credentials in Iowa on Saturday as they sought to differentiate themselves in the state that starts the presidential nominating process. Some also made sure to criticize the e-mail practices of the woman they expect to face in 2016, Hillary Clinton.
"We can be competitive in the world economically, we can also shore up our national security issues if we are more dependent on the abundant supplies of energy we have here in America and in North America in particular," Walker, the Wisconsin governor, said at the Iowa Agricultural Summit in Des Moines.
Walker, who catapulted to the top of many Iowa polls following a strong performance at the Iowa Freedom Summit in January, appeared poised and confident during a question and answer session.
He said he supported the Renewable Fuel Standard, which requires biofuels to be mixed into gasoline–a popular position for Iowa farmers whose corn is turned into ethanol. Long-term, he said, he would want to get to a point "where we directly address those market access issues so that eventually you didn't need to have a standard."
Asked about food safety, Walker responded: ``We have some of the safest and most fresh food in the world right here in the United States. We should be proud of that, and we shouldn't let anybody else tell us anything otherwise.''
Bush, the former Florida governor making his first trip to Iowa since October 2012, defended his support for immigration policy changes and said he favored a guest-worker program to compensate for shortages in agriculture and other industries. 
"If we want to be young and dynamic and growing again ... I think we need to fix this broken immigration system,'' he said. "Immigrants that are here need to have a path to legalized status.''
Bush started his appearance by highlighting the time he has spent in Iowa during the campaigns of his father and brother, both former White House occupants. Some of the biggest questions he faces in Iowa involve his vocal support for immigration reform, viewed skeptically by many Iowa caucus voters.
"We need to deal with the fact that 40 percent of our illegal immigrants come with a legal visa and they stay, overstay their bounds," he said. "Great countries ought to know where those folks are." 

The summit, held at the state fairgrounds, was designed to get prospective presidential candidates to talk about a topic that often receives little attention during White House campaigns. "There is not another industry in this country that affects more Americans than agriculture does every day,'' said Bruce Rastetter, a wealthy agribusiness executive and political donor who pushed for the event's creation, in his opening remarks. 
The summit was the second major pre-2016 presidential event in Iowa this year, and took place roughly 11 months ahead of the Iowa caucuses. The state leads the nation in ethanol, corn, pork and egg production and has about 88,000 farms, according to the U.S. Department of Agriculture.
Attended by roughly 1,000 Republican activists, farmers and agricultural industry representatives, the event drew extra attention because it also marked Bush's first appearance in the state since his announcement that he is contemplating a presidential bid. 

Bush said he supports a "guest worker program to deal with shortages in agriculture and other sectors based on demand" and that the U.S. should model its system after Canada and its greater access for "economic" immigrants that have needed skills. Immigrants in the U.S. illegally, he said, should pay fines and be required to learn English and work. 
"This is the only serious, thoughtful way I think to deal with this," he said. "We better start doing it because this is a competitive world. We're not operating on all of our cylinders right now.''
Former New York Governor George Pataki took a similar approach as Bush on immigration. "I believe it's totally unrealistic if we think we're going to take 11 million people and send them back where they came from,'' he said. "We do have to find a way for the vast majority of them to legalize their status here.'' 
Former Arkansas Governor Mike Huckabee, who won the 2008 Iowa Republican caucuses and always brings a folksy presentation, said revisions to U.S. immigration policy should "stem the tide of people who are rushing over because they've heard there's a bowl of food of food just across the border." He also added: "A country that does not have secure borders is really not a country anymore."

Speaking later with reporters, Huckabee required little prompting to share his thoughts on Hillary Clinton's use of a private e-mail account and server during her time as secretary of state, possibly in violation of the Federal Records Act. "Did she violate not only the protocol of the State Department and the administration?" he asked. "The bigger question is: was that in violation of the law?'' 
Cruz, a senator from Texas, told reporters after his appearance that there needs to be "an investigation as to whether she violated the criminal laws of the United States."

Leading off the stream of prospective candidates, New Jersey Governor Chris Christie argued for more local control in U.S. agricultural policy.
"I want to make sure we include farmers and your associations and our state officials in making these judgments. Washington, D.C., can help to provide the safety net, but they shouldn't be dictating terms," he said. "There is no way that a way a bureaucrat in a cubicle in Washington understands these issues better than the local farmer here in Iowa."
Christie highlighted his state's nickname in trying to make the case that he has agricultural credentials. "New Jersey is the Garden State, so it's not like I'm going to come out here not know any of this," he said. 
In his appearance, former Texas Governor Rick Perry sold his personal experience as a farmer and as a one-time agricultural commissioner in his home state. "Somebody that actually understands the industry would be good to have in the White House," he said.
On genetically modified food, Perry said agricultural interests need to do a better job of informing consumers about the safety, rather than mandatory government labeling.  "Where would the world be today, if we had some of the resistance to our genetic engineering and our ability to improve livestock and improve our seed stock?" Perry asked. "It's safe and that it will make our farming and ranching more sustainable."
The session tested the prospective candidates and their ability to balance the Republican base's support for limited government against their desire to not alienate Iowa's agricultural interests. Those forces, and the voters they represent, want continued government funding for rural Americans, including for corn-based ethanol.
Several of the likely candidates who spoke backed the elimination of ethanol subsidies in 2011. Many oppose the Renewable Fuel Standard.
"Businesses can continue to compete, continue to do well without having to go on bended knee to Washington asking for subsidies, asking for special favors," said Cruz, describing ethanol and wind subsidies as "corporate welfare."
"Ethanol is a major player in the industry," he said. "The demand will continue without the federal mandate."

Cruz, who is especially popular among Tea Party activists, has co-sponsored legislation to repeal the Renewable Fuel Standard. Two other possible candidates who want to phase out the standard, Senator Marco Rubio of Florida and Governor Bobby Jindal of Louisiana, skipped the summit. Rubio said he had to go to a family wedding. Senator Rand Paul of Kentucky also did not attend.
Former Senator Rick Santorum of Pennsylvania, who won the 2012 Iowa Republican caucuses, said ethanol ``creates jobs in small-town and rural America, which is where people are hurting.''
Outside of Iowa and other corn-growing states, support for ethanol has withered as domestic production of oil and gas has boomed, and studies have shown that converting corn into ethanol has its own environmental costs. 
America's Renewable Future, an Iowa-based bipartisan coalition that helped sponsor the summit, singled out Cruz and Perry for criticism for not being supportive enough of ethanol in their remarks. "Failing to support the Renewable Fuel Standard means failing to support America's economy and national security. It is clear that Senator Cruz and Governor Perry need to learn more about this crucial issue," ARF co-chairman Bill Couser said in a statement. 
South Carolina Senator Lindsey Graham expressed strong support for ethanol in his appearance. "Every gallon of ethanol you can produce here in Iowa is one less gallon to have to buy from people who hate your guts," he said.
Graham, a strong supporter of immigration reform, said the U.S. has no choice but to embrace more immigrants. "Unless we have a baby boom, we're going to need workers from outside this country," he said. "We need immigration reform that will supply us the labor to keep rural America working."
The senator also teased the heavily Republican audience for how Iowa voted in the last two presidential general elections. "I've enjoyed being in Iowa, but how the hell did y'all vote for Obama twice?" Graham said, as the crowd laughed. "Don't do that again."
Before it's here, it's on the Bloomberg Terminal.
LEARN MORE