Bomb-Sniffing Dog Prompts Search of Vehicle Near White House
Ian Katz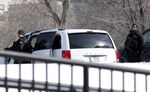 The U.S. Secret Service searched a vehicle near the White House after being alerted by a bomb-sniffing dog Saturday, delaying the first family's departure for the 50th anniversary of the civil-rights march in Selma, Alabama.
The vehicle was cleared and declared safe at 11:48 a.m., Secret Service spokesman Brian Leary said in an e-mail.
Earlier, as the White House press gathered near the South Lawn for President Barack Obama's departure, a loud noise was heard shortly after 10 a.m. and reporters were ushered back inside the briefing room, according to pool reporters.
A street vendor food cart had caught fire, the city's fire department said on its Twitter account. The fire was extinguished. There was no immediate indication the vehicle and fire incidents were related.
Photos were posted on Twitter showing billowing smoke from a souvenir stand near the White House.
The incidents delayed for 50 minutes Obama's departure along with his wife, Michelle Obama, daughters Sasha and Malia and mother-in-law Marian Robinson for Andrews Air Force Base near Washington. The first family boarded Air Force One around 11:30 a.m. and later arrived in Selma for the anniversary of the historic march for voting rights.
Before it's here, it's on the Bloomberg Terminal.
LEARN MORE