Bill Clinton Defends Foundation's Foreign Donations
In his first comments on the controversy, the former president says the foundation has done "more good than harm."
by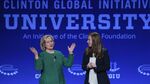 CORAL GABLES, Fla.–Former President Bill Clinton on Saturday defended his foundation's acceptance of donations from foreign governments, even those with which he disagrees.
"I think it's a good thing" to get support for the Clinton Foundation's activities, even from countries such as the United Arab Emirates and Saudi Arabia, he said at a meeting of the Clinton Global Initiative University in Coral Gables, Fla. Though he opposes much of what those governments do, they are still making some progress on certain issues, he said, and are helping do more by supporting the Clinton Foundation. 
"My theory about this is disclose everything, but let people make their judgments," Clinton said. "I believe we've done more good than harm."
Clinton's first comments on the recent disclosures of foreign contributions made to his foundation came at the University of Miami, where he took questions from Comedy Central host Larry Wilmore.
The Washington Post reported last month that seven foreign governments gave millions to the foundation while Hillary Clinton served as America's top diplomat, including one donation from the Algerian government that violated an ethics agreement with the Obama administration.  After she left the State Department, the foundation began accepting more foreign donations, sparking allegations of a potential conflict of interest.
In the decade-and-a-half since its formation, the Clinton Foundation has taken contributions from more than 300,000 people, the former president.
While the Clintons were here on Saturday and not in Selma, Ala.—where President Barack Obama and his family were joined by former President George W. Bush and former first lady Laura Bush—the former first couple took time to commemorate the 50th anniversary of Bloody Sunday.
"You can see how progress is made by looking at what happened this weekend in Selma, Ala., where our country is marking a historic  anniversary of the long march towards equality and a more perfect union," Hillary Clinton said. The anniversary is also a moment of "recommitting to carry the cause forward into the 21st century." 
She urged the crowd, which was primarily composed of hundreds of college students, to look at the speeches delivered by Obama and by Representative John Lewis, the Georgia Democrat who was a leader of the march across the Edmund Pettus Bridge half a century ago.
Lewis, Clinton said, was "one of the great heroes of Selma and one of the great exemplars of civil rights and human rights."  President Obama, she added, gave "just a superb speech," discussing "the progress we've made but the imperative that we do more."
Bill Clinton weighed in with a three-minute video posted on Twitter and briefly mentioned the anniversary in his closing comments of the evening.
Hillary Clinton didn't touch on any of the controversies swirling around her as she shared the stage with her daughter, Chelsea, for about 20 minutes.
They did, though, share that they will both be changing their social media avatars to blank images on Sunday to draw attention to the lack of representation of women around the world.
For the former secretary of state, that means that her sunglasses-clad, BlackBerry-in-hand "Texts from Hillary" Twitter avatar–which has taken on a new meaning as her e-mail practices have come under scrutiny–will change, at least for a day.
Before it's here, it's on the Bloomberg Terminal.
LEARN MORE