Who's Who in the Clinton E-mail Controversy
The crop of that keep reappearing in the story is like a primer on Clinton loyalists.
by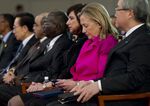 The steady revelations surrounding Hillary Clinton's use of personal e-mails to conduct government business as secretary of state have returned the names of core Clinton loyalists to national prominence. The sprawling list of dramatis personae—from Chelsea Clinton to Philippe Reines—can be difficult to track, even for veteran Clinton watchers.  Below, a guide to the key figures:
Hillary Clinton
She used the email address hdr22@clintonemail.com to conduct State Department business, using a "homebrew" server in the basement of her home in Chappaqua, N.Y.  Some of those e-mails have been sent to the State Department for archiving. She has now asked the department to release emails but has not clarified which would be released. The House of Representative's Select Committee on Benghazi received some emails from the State Department but has subpoenaed more.

Chelsea Clinton
Her clintonemail.com address was registered "under a pseudonym, Diane Reynolds, which she frequently used when she checked into hotels," the Times said.

Huma Abedin
The longtime Clinton aide, whom the Times called a "surrogate daughter," used the address huma@clintonemail.com when she worked with Clinton at the State Department, Gawker reported. According to the Times, the Associated Press is considering legal action against the State Department because of unfulfilled Freedom of Information Act requests that sought details on Abedin's simultaneous employment as a top adviser to Clinton and a consultant to private clients.

Eric Hothem
A former Clinton aide who once was considered the Clinton's information technology expert, according to the Associated Press. An "Eric Hoteham" registered the server that hosted clintonemail.com e-mails sometime before 2010, the news wire said. A person using that name also registered another e-mail server, presidentclinton.com, and a non-functioning website, wjcoffice.com. (Bill Clinton's full name is William Jefferson Clinton.). Media reports have links Hothem to Hoteham, whom the AP was not able to trace. Currently a financial adviser in Washington, Hothem has not comment on whether or not he registered the server.
Justin Cooper
A Clinton aide since since the 1990s, Cooper registered the clintonemail.com domain name, according to the Associated Press.
Philippe Reines
Along with Abedin, Cheryl Mills, and Jake Sullivan, Reines acted as a chief conduit between Clinton and State Department employees, especially when she was traveling. The longtime aide and Clinton spokesman at the State Department, who has had profanity-laced exchanges with reporters, seems not to have used a clintonemail.com address, but Gawker has reported that he did use a private account in his work at State.

Nick Merrill
The Clinton spokesman has defended her use of private emails as Secretary of State as in keeping with the regulations on  as they existed during Clinton's tenure.
Marie Harf
The State Department Deputy Press Secretary, Harf has said Clinton released personal emails to the State Department following a request.

Trey Gowdy
The South Carolina Republican is chairman of the House Select Committee on Benghazi. Although the committee received e-mails from Clinton relating to the 2012 attack, he issued subpoenas for Clinton e-mails on Wednesday, before Clinton announced she was asking the State Department to release them. On Tuesday, Gowdy said he doesn't plan to release the e-mails because he is not sure those the committee has are complete or representative.

Before it's here, it's on the Bloomberg Terminal.
LEARN MORE