Obama's Long Road Back to South Carolina
Seven years after the Palmetto State's black voters gave him a key primary victory, Obama returns.
by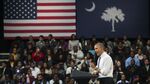 In 2007 and early 2008, Barack Obama spent so much time in South Carolina he probably could have given you turn-by-turn directions through Greenwood, where supporter Edith Childs coined his campaign call-and-response, "Fired up! Ready to go!" or through Columbia, where he and Oprah Winfrey filled up Williams-Brice Stadium in an exuberant, race-melding rally, or through Charleston, where he sat for a cut at the Distinguished Gentleman barber shop.
In the state where the Civil War began, and where the partisan split reflects decades of racial tensions, black voters delivered Obama a primary election victory that gave him key momentum to later clinch his party's nomination. Obama became America's first black president. And then, he never went back to South Carolina. Not in 2009, 2010, 2011, 2012, 2013, 0r 2014. Not in the face of suggestions and invitations and pleas from prominent state politicians, including U.S. Representative James Clyburn, who is black and is the No. 3 Democrat in the House.
That changed Friday, when, on the eve of his planned trip to Selma, Ala., for the anniversary of Bloody Sunday, Obama held a town hall at Benedict College, a historically black college in Columbia. In remarks and a question-and-answer session, Obama covered everything from race relations in Selma and Ferguson, Mo., to climate change and talked to one 10-year-old boy about how to prepare to become president.
But first, he acknowledged his absence.
``It's been a while since I was in South Carolina," he said. "It's been too long. It has. I'm not going to lie. You know I love you. And I've been loving you, it's just, err, I have a lot of stuff to do since I last saw you."

Obama said that backstage he'd gotten to catch up with "so many of the wonderful people that I worked with back in 2008" and that if not for South Carolina voters who had "gone door-to-door and talked to folks and got everybody fired up and ready to go, if it hadn't been for all of you, I might not be president. And I'm truly grateful for that."

My colleague Toluse Olorunnipa, who is traveling with Obama, said the mostly black crowd of about 1,100 people seemed inclined to forgive Obama for staying away so long. "People are clapping and in good spirits," he said while along the motorcade route, where locals lined up to take pictures and students outside a local elementary school held up a large "welcome" sign as the president rolled through.
Obama also made an unscheduled stop at the Brookland Baptist Church, where, according to the pool report by Dave Boyer of the Washington Times, one woman in a red dress held onto Obama so tightly that the president remarked out loud, "She's hanging on, won't let go!"
Before it's here, it's on the Bloomberg Terminal.
LEARN MORE