Nonstop Trains a Non-starter For Connecticut Senator
Bill seeks study on high-speed rail service in the Northeast Corridor.
by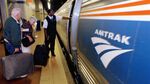 Should high-speed rail roll straight through Connecticut? No way, warns U.S. Senator Richard Blumenthal, who says he will "stop in its tracks" any proposal for high-speed rail from New York City to Boston if those trains do not stop in his state.
"High-speed rail without stops in Connecticut is a nonstarter," the Democrat warned in a statement Friday.
Blumenthal is train-hoppin' mad about the U.S. House's passage Wednesday of language calling for a study of high-speed, non-stop service from Washington to New York City, and from New York to Boston, which at best would be decades away. The language was in an amendment tucked this week into a larger bill authorizing $7.2 billion in spending for Amtrak and other rail programs from 2016 through 2019.
The overall bill passed 316-101, with all five of Connecticut's House members voting for it.  The legislation now goes to the Senate, where Blumenthal plans to make his stand.
Blumenthal is not alone in his anger. Democratic Connecticut Governor Dannel Malloy's communications director, Mark Bergman, said Friday in an e-mail that the notion a high-speed train could blaze through the state is "very simply, not happening." He said such Malloy would "stand firm" against such a plan that would be "dead on arrival."
The legislation's sponsor, Republican Representative John Mica of Florida, has been proposing such a study for  years. Under the language that was passed, a Northeast Corridor advisory committee in consultation with Amtrak would conduct the work and within 180 days deliver a report to the House Committee on Transportation and Infrastructure and the Senate Committee on Commerce, Science, and Transportation. Among issues to be taken up in the report are the estimated trip times, ridership, revenue, total cost, capacity, and other metrics, such as impacts on Northeast Corridor infrastructure.
In promoting the idea, Mica said, "Right now, the service from Boston to New York City runs 68 miles an hour on average. That is Third World kind of operations."
Representative Michael Capuano, a Massachusetts Democrat, praised Mica on the House floor. "We totally agree on that concept. We totally agree on trying to make–especially the Northeast corridor–more efficient rail."
And House Transportation and Infrastructure Chairman Bill Shuster said on the floor that Mica "is right that while the Europeans are moving at speeds twice that rate, we can do better in the United States, and I believe this study will help us move in that direction in the future."
As for any potential complaints from Connecticut, Mica responded that the idea of high-speed rail should be seen more as a way to ease delays and crowding on existing service, as well as air traffic delays in the region.
Blumenthal said, "The New Haven Line is the busiest rail line in America for a reason–Connecticut residents demand and depend on robust rail service."
He said in the statement that he will work "vigorously to stop in its tracks any effort to ignore our state's critical needs, and I look forward to working with my colleagues in the delegation who share my concerns about this issue."
Before it's here, it's on the Bloomberg Terminal.
LEARN MORE