The Secret to Covering Secret Conservative Societies That Aren't Really So Secret
Reviewing a week of intense coverage by the New York Times and others of groups like the Competitive Enterprise Institute.
by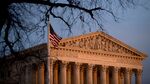 It has been a very good week for secret conservative organizations. The fantastic New York Times influence reporter Eric Lichtblau used the occasion of the King v. Burwell lawsuit to profile the Competitive Enterprise Institute, which had found the plaintiffs who could destroy the Affordable Care Act. The headline: "Challenge to Health Overhaul Puts Obscure Think Tank in Spotlight." The lede referred to CEI as "an obscure name with a modest budget that belies its political connections to conservative titans like the Koch brothers," contrasted with "much-better-known foundations created by the conservative billionaires Charles G. and David H. Koch."
A day earlier, ProPublica blew the lid off of King v. Burwell with a profile of the "secretive society" that had a "hidden hand" in the case. "Few reports have highlighted the role of the Federalist Society, the conservative law group whose ideas are at the intellectual heart of the King v. Burwell challenge," wrote Nina Martin. "That's not surprising, given that the group's members have played a mostly behind-the-scenes part in King."
To anyone who had closely covered the King case, or its companion cases, these were curious revelations. The Federalist Society has been the subject of many profiles and at least one book, and it allowed reporters to cover its last meeting in Washington, where some of the legal minds behind King were present. CEI has been similarly covered for years—including by the New York Times, which has been profiling its role in this case, and also followed CEI's moves to get documents from the Obama administration's environmental policy makers. Like the Federalist Society, CEI is open to coverage by reporters. When one of King's companion lawsuits succeeded in a district court, I was invited to cover the party at CEI's office. Every year, plenty of reporters are invited to cover CEI's gala, where corporate sponsors are named on brochures, and libertarian wonks and academics sing hosannahs to DDT and deregulation.
There's no mystery when a headline writer calls an organization "secretive" or "obscure." Pulling back the curtain to find Oz is more exciting than pointing at Oz as he's standing at the buffet table. But for as long as a conservative majority runs the Supreme Court, and as long as Republicans run Congress and most states, there can never be too much coverage of the right's institutions.
Example: CEI presaged the King case with a long campaign to get the e-mails of former EPA administrator Lisa Jackson. In April 2012, CEI's Christopher Horner reviewed documents he'd gotten in a Freedom of Information Request and saw that dual e-mail accounts existed for key employee. "Few EPA staff members, usually only high-level staff, even know that these accounts exist," read one memo. Horner FOIA'd for documents, especially for anything by "Richard Windsor," which appeared to be Jackson's nom-de-e-mail.
CEI's investigation helped kick off an audit by the inspector general, but the case remained obscure. Now that Republicans run both houses of Congress, that can change. On Wednesday, I asked Wisconsin Senator Ron Johnson, the Republican chairman of the Senate's oversight committee, if he was considering his own investigation of Hillary Clinton's e-mails.
"We're exploring it right now," said Johnson. "I've got not only questions about that, but whether there's been a concerted effort throughout the agencies to have different e-mail accounts to shield themselves from scrutiny."
Johnson confirmed that he was talking about the EPA story. If any conservative institution with Congress's or the courts' attention could be described as "obscure" before, that time is probably winding to an end.
Before it's here, it's on the Bloomberg Terminal.
LEARN MORE