How Sheryl Sandberg Is Turning Feminism Into a Tech Brand
With a new campaign directed at men, the organization Sheryl Sandberg founded is conquering a new market. But if that's feminism, what does feminism mean now?
by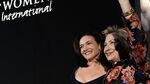 Sheryl Sandberg's 2013 book, "Lean In," zagged into the cultural lexicon with stunning velocity, and quickly sprouted an organization of the same name, to maintain its ideals and to do its good deeds. On Wednesday evening, LeanIn.Org launched its major public initiative for the year, #LeanInTogether. This is 2015's version of #BanBossy, which aimed to empower future female leaders by eliminating the word 'bossy' from schoolyards and offices. While "Lean In" focused on women lifting up women, #LeanInTogether reaches its arms out to men. The campaign, its promotional literature states, "will emphasize how men benefit from supporting women at home and at work—happier marriages, more successful children, and better team outcomes—and provide practical information on how men can do their part." It furnishes a lifestyle magazine's worth of practical, downloadable tips for "Men at Work, Men at Home, and Managers," as well as videos on "Getting to 50/50," developed in conjunction with Stanford's Institute for Gender Studies. On one page of a press release, a mock-up #LeanInTogether "social gallery" shows Aziz Ansari praising "amazing female coworker" Amy Poehler, and a father who is "with the kids watching mommy lives her dreams of being a Rams cheerleader (while working and being an amazing mother!)." On another page, a photo of a father leading two small children by the hand—girl in pink, boy with collar popped—watermarks a message: "When men lean in for equality, they win—and so does everyone else." Hillary Clinton, Ruth Bader Ginsburg, Condoleezza Rice, and Lena Dunham appear in a promotional video to make this case, speaking with gratitude of the men who have supported them. The Lean In Together initiative is also partnering with ESPN and the NBA/WNBA, and has released a PSA with players including LeBron James, Dwyane Wade, Chris Bosh, and Stephen Curry. Everyone's invited.
Rachel Thomas, the co-founder and president of LeanIn.Org, told me that this drive is a direct extension of Sandberg's book, and that Sandberg is "very active" in Lean In Together, as she is "in everything we do." (Of course, Thomas added with a wink, "she has a day job." Sandberg is the Chief Operating Officer of Facebook. This role may have something to do with the massive list of companies partnering with Lean In Together. 1 These include AOL, Babble, Congressional Hispanic Caucus Institute, Chegg, The Clayman Institute for Gender Research, The Clorox Company, Common Sense Media, DoSomething.org, Dove Men+Care, eBay Inc., ESPN, Evercore, Facebook, Fatherly, Getty Images, Gillette, Girl Scouts, GLAAD, Google, HeForShe, InspiredHR, Instagram, Levo League, LinkedIn, Macy's, MAKERS, MasterCard, Microsoft, National Council of La Raza (NCLR), National Urban League, Nestlé, Nissan Motor Corporation, Quora, The Representation Project, Salesforce, Sony Electronics, Target, TaskRabbit, TINT, Twitter, Virgin, Visa, Yahoo, Young Presidents' Organization, and YouTube. ) Sandberg will be speaking about the new campaign, Thomas told me, and will soon publish a New York Times op-ed on the matter, part of the series on women and work that she's written with Adam Grant, a professor at the University of Pennsylvania's Wharton School. Speaking by phone from her home in California, Thomas said that there's no way "we can get to true equality if men don't actively participate." She said that "women face pushback when they take the lead, and men often face pushback when they nurture," and that we need to twist that around.
There are tactical reasons, Thomas continued, why men should support women—"hit-you-personally" reasons, she called them. Leaning In Together "isn't just the right thing to do," she said, "There's lots of benefits. Active fathers have more successful and happier children, men who share housework have more sex, happier marriages, lower divorce rates. Men who work well with women at work perform better. Companies with women in leadership roles perform better." Sandberg will be guest-editing a special section of Cosmopolitan this month to this effect—"Cosmo Careers"—to teach young women not only how to drive a man wild, but how to be his equal at work. Photos in the spread could very well be provided by the photo stock library Getty Images, which is adding more than 600 pictures of enlightened coworkers, partners, and fathers to its Lean In Collection.


With its listicles and metrics, its mass of celebrities and relentless positivity, Lean In Together stands at a considerable evolutionary distance from Lean In's beginnings. In its incipient form, Lean In was about individuals more than it was about institutions. In a 2011 profile of Sheryl Sandberg, published in the New Yorker, the reporter Ken Auletta described a meeting that Sandberg conducted at the Facebook headquarters. "What I believe," Sandberg said, speaking to twelve of the company's female executives, "is that there are still institutional problems and we need more flexibility in all of this stuff, but much too much of the conversation is on blaming others, and not enough is on taking responsibility ourselves." Her book, published not two years after the profile, denounced systemic sexism, but didn't focus on it. The emphasis was not what the world should do for women—how badly it fails, when it comes to wages, access, education, daily freedom—but what women could do for themselves. The subtitle spoke of "the will to lead." Sandberg shared personal anecdotes and family history to pull back how she pulled herself up in the competitive world of Silicon Valley. Critics responded to this focus on individual entrepreneurialism by calling the book a new business manual, a sort of corporate-America-for-dummies who just happen to be women. And yet, conversely, some said, there weren't enough bullet-pointed morsels that these female dummies could heed.
In her subsequent, expanded book "Lean In For Graduates," which I wrote about last April, Sandberg seemed to respond to this last grievance, including more pragmatic tips for advancement—for interviewing, for instance, and for negotiating. Under Thomas, LeanIn.Org has geared itself further toward real life and regular people with its Lean In circles, empowerment pow wows near you.


But while Lean In, little by little, broadens to include men as well as women as it hones a message of generalized social uplift, and features political heavy-hitters in its videos, the group carefully steers clear of an explicitly political message. Thomas told me that Lean In's communications director, Andrea Saul, came from the political domain: She had worked as Mitt Romney's presidential-campaign press secretary, and also at various times for Carly Fiorina, Orrin Hatch, and John McCain. But Saul, when I put the question to her, declined to articulate Lean In's political aspirations. She told me that "supporting women is a nonpartisan issue." When I asked about the role Lean In might play in the politics of abortion and reproductive rights, she paused. "I think that's a conversation for another day."


Last week in Silicon Valley, Hillary Clinton spoke to an audience of 5,000 female technology professionals, the kind of crowd toward whom Lean In was targeted. It is this kind of feminism that Clinton is embracing now, the way she didn't in 2008—maybe couldn't. It's possible that Lean In—even more than her baby granddaughter—has helped enable Clinton to speak more freely about gender. On Tuesday night at a gala for EMILY's List, Clinton told the crowd that people would simply have to get used to her saying "that women's issues are American issues." It's possible that Sheryl Sandberg has helped make women's rights more palatable to the mainstream. The presumed Democratic candidate may know this. Before she spoke, Clinton attended a private round table with Sandberg.
When Clinton took the stage, and as she spoke, the women in the audience clapped and cheered like crazy. This was the same clapping and cheering unleashed moments before, as the rich companies the women worked for were named, some kind of sorority-like roll call. The attendees at the event, the "Lead On: Watermark Silicon Valley Conference for Women," could have been photographed for stills for the Getty Lean In collection. The scene was peculiar, as though feminism, marketing, technology, and politics had become one. It could make a person queasy. 
My own reportorial eyebrow raised when I saw that, at the same "Lead On" conference, former New York Times executive editor Jill Abramson had conducted a seminar on "Job Stress SOS." Was this the fate of a pioneering news boss? Aren't management strategies and stress-release more the fauna of business-school guides on the efficiency-guru circuit?  These tactics, these rooms, these public-awareness campaigns can't possibly be called activism. They feel so meticulously safe, so soft-edged, so bland.
Truly, Lean In Together offers nothing to object to. And that's the genius of it: I may stop, I may balk, but it's designed to be purely unobjectionable. Please, together, review these tips:

Who could resist, let alone disagree? This is the uninteresting optimism of Silicon Valley, which has shown itself to have more than a modicum of cultural power.
Indeed, LeanIn.Org's latest move, Lean In Together, is being rolled out as a technology product, with a microsite that's optimized for mobile. It makes sense that Thomas, before cofounding Lean In, had worked not in the human-rights sector, for instance, but "running an ed-tech startup." Seen through this lens, Clinton's speech last week wasn't only set in Silicon Valley. It was part TED-talk, part campaign rally, and—in its introducers, its optics, its pitch—had something of a technology product presentation about it. Here she comes, our shiny new product: the great Hillary Reveal. 
The heads of startups see themselves as help-minded, too: that kind of technological optimism is a (if not the) clear politics of the thing. "Don't Be Evil" as moral manifesto. In "Lean In," Sandberg wrote that her heart once "wanted to join Google in its mission to provide the world with access to information."

Lean In is mainstream feminism in 2015, the kind Bey and Tay can stand behind, then still sell records to schoolchildren. Thomas sees herself, and her organization, as feminist, "by the true definition of what feminism is," she said. Here is a Ferberized Silicon Valley feminism that emphasizes better results, that emphasizes what is possible—what is, in the sense of product, productive—more than the older goals of social solidarity and genuine liberation. There's nothing angry about it, which can make a gal angry.
Two years ago, Susan Faludi wrote a scathing and revved-up piece on Sandberg-as-prophet. Faludi, a hallmark feminist, questions how we've got here. Many of us do. But feminism is a brand product, now, maybe a growth business. The tech world knows how to create products that people will use. Can it hurt to try these tools on feminism? 
Before it's here, it's on the Bloomberg Terminal.
LEARN MORE