Here's Who Knew Clinton Used Personal E-mail for Government Business Before This Week
Hints that Clinton used a private e-mail address as secretary of state have emerged over the past few years.
by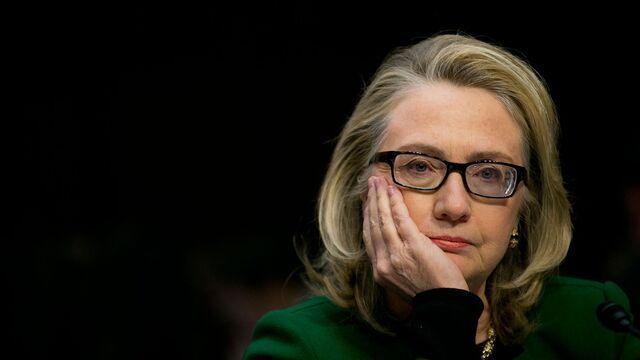 It's not clear who, aside from her correspondents, knew that Hillary Clinton used private e-mail to conduct government business as secretary of state before the New York Times broke the story late Monday night.  But reports and admissions have begun trickling out about who might have had a glimpse into the practice before this week.
Gawker, "Guccifer," and TheSmokingGun.com
In March 2013, TheSmokingGun.com, which publishes documents online, reported that a hacker named "Guccifer" claimed to have gotten hold of messages from the AOL account of one-time Clinton aide Sidney Blumenthal to Clinton while she was secretary of state. Gawker then pointed out that alleged emails from Blumenthal, who no longer worked for Clinton, went to the private clintonemail.com domain. The site included screen grabs purporting to show messages between Blumenthal and Clinton, in which e-mails appear to have gone to someone with the address hdr22. 
The State Department
Clinton certainly e-mailed State Department staffers during her tenure, which ended in early 2013. But before the Times story broke, the department also received 55,000 pages of Clinton e-mails, the Times reported, "in response to a new State Department effort to comply with federal record-keeping practices." In a tweet Wednesday night, Clinton said she wanted those e-mails to be released–a process that could take several months. 
The Select Committee on Benghazi
During a press conference on Tuesday, the House committee's chair, Representative Trey Gowdy, said the committee had found out that Clinton used private e-mail to conduct government business in late summer 2014. A spokesman for the committee told the Associated Press that it received confirmation that she used a private e-mail address exclusively at the end of February.
The White House
The Associated Press reported that the office of the White House counsel asked the State Department "to ensure that her e-mail records were properly archived" after the department handed over messages "in connection with the Benghazi investigation." It's not clear when the request was made, what result it had, or how widely the knowledge was shared. White House Press Secretary Josh Earnest said  this week that he didn't know whether any senior officials in the White House were aware that Clinton only used private e-mail as secretary of state but conceded "the secretary of state did trade e-mails with some White House officials."
Before it's here, it's on the Bloomberg Terminal.
LEARN MORE