Democrats See a Familiar Pattern in the Clinton E-mail Story
Reports of Democrats fretting about Hillary Clinton's future have been overstated.
by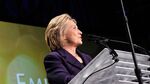 "You're not going to be the sixteenth writer who asks me about Hillary, are you?" says Vermont Senator Bernie Sanders. "I know you would not do that. You want to ask me about the state of the economy, unemployment, poverty. You would not ask me about my views on Hillary Clinton."
Sanders, like the rest of his colleagues, was getting out of town. The Senate was finishing its week's work early, to avoid the airline-scrambling chaos of a snowstorm, and to allow a vote to override President Obama's veto of the Keystone XL bill. (The override failed, as expected.)  The escape would mean an end to questions about former Secretary of State Hillary Clinton's e-mails, which had been sent from a private account, and hosted on a "homebrew" server at her New York residence.
In some reports, the Democrats have been portrayed as dodging questions about the Clinton story because they are not "rushing to defend her." There certainly are Democrats, some with rooting interests in Clinton rivals, who are speculating that the e-mail story could wound her 2016 presidential campaign. Yet in Congress, the consensus of many Democrats was that this was just the latest story in a running campaign to discredit a politician who had survived worse.
Sanders, the only member of the Senate actively exploring a possible campaign for president, wanted nothing to do with the e-mail story. In an interview with the New York Times, California Senator Dianne Feinstein doubted that there was "ill intent" in the former secretary's e-mail habits. In an interview with National Journal, Delaware Senator Tom Carper—the ranking member of the Senate's oversight committee—said he'd be "surprised if a number of secretaries of state hadn't done that for as long as we've had e-mail." In background interviews, more than one Democratic senator described the Clinton story with an eight-letter word that refers to a certain zoological effluence. 
Even as reporters have uncovered more details of the e-mail story, even as Clinton aides have engaged in a fumbling conflict with those reporters, Democrats have started to question where this is coming from. "I did not want to believe it, but everything I've seen so far has led me to believe this is an effort to go after Hillary Clinton," said Maryland Representative Elijah Cummings, the ranking member of the select committee on Benghazi that first procured e-mails from the off-books Clinton e-mail account. "I think that's very unfortunate."
Cummings's colleagues happily backed him up. "To me, it's trying to make a mountain out of a molehill," said Brendan Boyle, a freshman from Pennsylvania who serves on the Oversight Committee. Boyle, who defeated former congresswoman and Clinton in-law Marjorie Margolies to win his seat, illustrated the point by taking two iPhones out of his pockets. "I somewhat frustratingly have to use two different phones," he said, "one that I pay for, and then one that the government uses. Back when I was a state legislator, I just used the personal phone. I imagine she did it for ease, and I imagine there are a lot of people who are constantly looking for controversy and scandal, desperately trying to create one."
Virginia Representative Gerry Connolly, another member of the House Oversight committee, reacted with similar dismissiveness. As he left a vote on the floor, he struggled to think of a response to the idea of more subpoenas of Clinton's e-mails. "It would be in the grand tradition of many other investigations our committee has undertaken that has led almost nowhere over the past four years," he said.
"Their work product has been so bad, we're gonna investigate the committee," joked Representative Randy Weber, a Texas Republican who happened to be sharing an elevator with Connolly.
As the Virginia Democrat headed to a meeting, he put the e-mails investigation in the context of years of treasure hunts into the Clintons' lives—the White House travel office, the Whitewater land deal, Monica Lewinsky. "Look how that really worked out for the Clintons," said Connolly. "Bill Clinton is the most popular living president."
The Democrats' reaction to the story, paradoxically, is heightened by the perceived success of the Benghazi select committee. Republicans see the e-mail story as proof that the committee—which even Speaker of the House John Boehner resisted creating—was the right idea. "Serious investigations require serious-minded people," said its chairman, South Carolina Representative Trey Gowdy, in a Tuesday press conference about the e-mails. "This revelation, which we've known about but has now been made public, may well lay the groundwork for additional conversations with the secretary in one setting or another."
Democrats and outside allies of the Clintons read that as an invitation to deride the investigation. Media Matters and Correct the Record, two of David Brock's organizations—one that occasionally defends Hillary Clinton, and the other that does nothing but—have repeatedly called the e-mails story "false" and an extension of the "Benghazi hoax." They've maintained that line of argument as conservative groups tumbled over one another to enter the e-mail fray.
"The fact that we're only finding out about this now, on March 3, after years and years of investigations, is an indictment," said Tom Fitton, the president of the 21-year old legal watchdog group Judicial Watch, in a Tuesday interview.
On Wednesday, two newer conservative groups announced that they would file Freedom of Information requests for Clinton's e-mails. The Foundation for Accountability and Civic Trust, which was founded by a former U.S. attorney and Republican congressional candidate from Iowa, announced both a FOIA and a DOJ request that "action be initiated to retrieve all State Department records, in order to obtain the thousands of e-mails Secretary of State Hillary Clinton concealed from proper authorities and the American citizens."
Hours later, Citizens United announced its own FOIA for any hidden pieces of Clinton's personal schedule—"any and all records, in any format, that concern, mention, or reference a schedule, appointment, event, appearance, or any other anticipated commitment of presence or communication."
Citizens United is run by David Bossie, who founded the group after years as a congressional investigator into the Whitewater and Clinton finance scandals. Judicial Watch was more or less founded to file lawsuits against the Clinton administration. Many Democrats look at the resources aligned against Hillary Clinton and shrug that she's beaten them before. "On the very committee I now serve, when I was in high school in the early 1990s, I think the Republican chairman set up a demonstration in his yard to prove something about Vince Foster," said Boyle, who is 38 years old. "I think this is the silly stuff that annoys people about politics."
Republicans were concerned about that when they set up the Benghazi committee. It was a reason why Gowdy, a career prosecutor who avoids leaks from his investigations, was given the key role. It's also a reason why Republicans have tried to keep the discussion on the e-mails to themselves, without extrapolating into how the story could affect a campaign.
"I think it's pretty simple," said Iowa Senator Chuck Grassley, the Republican chairman of the Judiciary Committee. "Is it a violation of law or not? If it's a violation of law, prosecute it."
Members of the Senate's Oversight committee, such as Wisconsin Senator Ron Johnson and Oklahoma Senator James Lankford, responded to questions about the e-mail story by rattling off some technical questions that had to be answered. South Carolina Senator Lindsey Graham, who had been an impeachment manager during the Lewinsky scandal, was similarly tight in how he framed his own questions.
"What kind of shop are they running over there when they're in open defiance of the law?" asked Graham. "At best, it's just incompetence. At worst, it's an elaborate scheme to avoid transparency and accountability."
Gowdy, Johnson, Lankford, and most of the Republicans in Congress arrived long after the two terms of President Bill Clinton. Graham's long experience let him watch the Clintons face similar quandaries, fight back, and—with the strong support of Democrats—move past the scandal.
"The difference this time is that there are four dead Americans," said Graham. "It's not about money, it's not about, you know, personal misbehavior. It's about responsibility. It's about four dead Americans."
Heidi Przybyla contributed to this report.
Before it's here, it's on the Bloomberg Terminal.
LEARN MORE