White House Distances Itself From Hillary Clinton Over E-mails
During a daily briefing with reporters, White House Press Secretary Josh Earnest repeatedly placed responsibility for the controversy at the feet of the former secretary of state and her team.
by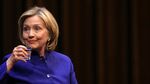 When it comes to the question of whether his former secretary of state broke the law by using a private email account to conduct government business, President Barack Obama may or may not have Hillary Clinton's back. 
White House Press Secretary Josh Earnest was at pains Wednesday to answer whether Obama believed Clinton "broke the law" or "fully complied with the law" with her use of a private e-mail server and the subsequent handling of those messages during her tenure as secretary of state. 
"I was not in a position to review Secretary Clinton's personal email," Earnest said. "That was the responsibility of Secretary Clinton and her team. That's what they say that they did. They say that they turned over thousands of pages and thousands of e-mails, including many that were already on the State Department system, and that is entirely consistent with the requirements of the Federal Records Act."
Throughout the contentious briefing, Earnest was repeatedly pressed by reporters as to whether White House officials were aware that Clinton was using private e-mail, and had properly archived her government communications. 
"Secretary Clinton's team has taken the necessary steps, according to them," Earnest said. "You should go ask them to confirm this." 
Asked whether anyone at the White House had authorized or raised objections to Clinton's use of a private e-mail account, Earnest once again laid the responsibility at Clinton's feet. 
"Very specific guidance has been given to agencies all across the government, which is specifically that employees in the Obama administration should use their official e-mail accounts when they're conducting official government business," Earnest said. "However, when there are situations where personal e-mail accounts are used, it is important for those records to be preserved, consistent with the requirements of the Federal Records Act."
Clinton is not the first secretary of state to use a private e-mail account when conducting government business, and her advisers have pushed back on the suggestion that she violated the law, arguing that she never sent classified information over the private server and has since turned over all the required correspondence. 
Republican Representative Trey Gowdy of South Carolina, whose House Select Committee on Benghazi requested Clinton's e-mails, said Tuesday that Clinton used more than one personal account to conduct government business when she was secretary of state.     
"You do not need a law degree to have an understanding of how troubling this is," Gowdy said at a Tuesday news conference. "One should also be concerned about the national security implications of former Secretary Clinton using exclusively personal e-mail accounts for the conducting of official U.S. foreign policy."
Before it's here, it's on the Bloomberg Terminal.
LEARN MORE