Ruppersberger 'Close' to Decision on Seeking Mikulski Seat
He says he's already spoken with his media consultant and pollster.
by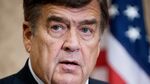 Seven-term Maryland Representative C.A. "Dutch" Ruppersberger isn't letting Senator Barbara Mikulski's "very shocking" retirement announcement prevent a cold calculation about his own political future.
A former Baltimore County executive, prosecutor and more recently the top Democrat on the House Intelligence Committee, Ruppersberger said Tuesday he's giving "very serious consideration" to running for the Senate next year.
"You have to look at where you are at certain times in your career, what your goals are," he told reporters. "I am not there yet but I am getting close to making a commitment" whether to run, he said.
Mikulski's surprise announcement Monday that she won't seek a sixth Senate term set Maryland officeholders scrambling to decide whether trying to replace her is in their political futures.
Suburban Washington Representative Chris Van Hollen, the top Democrat on the House Budget Committee is very likely to run for the seat, according to a Van Hollen aide who spoke on condition of anonymity.
Democratic House member John Delaney, whose district stretches from Washington suburbs to western Maryland, said in a Twitter post Monday that he would "explore a race for Senate."
Representative John Sarbanes, whose Baltimore congressional district was once represented by Mikulski and his father, former Senator Paul Sarbanes, told reporters Tuesday that he's also considering running. When such a political opening occurs, "you owe it to give it serious consideration, but there are a lot of factors to consider."
Ruppersberger said that what's "uncomfortable for all us is" that "all of us who are looking at it are friends and we respect each other."
The state's biggest political dog won't be in the Senate race. Former Maryland Gov. Martin O'Malley is exploring the possibility of running for president in what would be a challenge to Hillary Clinton's frontrunner status for the Democratic nomination. An O'Malley Senate candidacy might ''make him look weaker if he was trying to build himself up" on the national stage, Ruppersberger said.
Ruppersberger, 69, said O'Malley told him Monday night that he wouldn't be running for the Senate seat.  On Tuesday, O'Malley made it official, saying he won't be part of the field of "very capable public servants" considering making the Senate race next year.
Ruppersberger, who passed up a race to succeed O'Malley last year, said he's already spoken with his media consultant and pollster about a Senate race.
As "one of the few centrist Democrats out there," Ruppersberger said he may have an advantage in a state which just elected a Republican governor, Larry Hogan, for the first time in eight years. "I am very bipartisan."
Still "it's a long way off, believe me."
CORRECTION: An earlier version of this story's headline misspelled Senator Barbara Mikulski's last name.
Before it's here, it's on the Bloomberg Terminal.
LEARN MORE