O'Malley's '16 Decision Won't Be Driven by Clinton Problems
The former Maryland governor has ruled out a run for the Senate and is planning a swing through New Hampshire.
by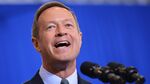 Hillary Clinton's recent troubles aren't affecting former Maryland Governor Martin O'Malley's deliberations on whether he'll run for president, an aide to him said Wednesday.
O'Malley, the aide told Bloomberg Politics, has made clear that he is seriously considering a run for president and will make his decision irrespective of what happens with other potential candidates. The aide spoke on condition of anonymity.
On Tuesday, O'Malley ruled out a bid for the Senate seat being vacated by retiring Senator Barbara Mikulski and continues to weigh his options for getting into the Democratic presidential race. He has said he is considering a run.
His schedule for the next few weeks has all the trappings of an early stage presidential candidate. He's headed to New Hampshire on Friday and Saturday for two fundraisers, including one for the New Hampshire Democratic Party.
Next week, he's hitting the D.C. think-tank circuit for a Wednesday speech at the Brookings Institution on his experiences with "data-driven government." His team is also planning trips to Iowa for later in March and April.
On Saturday, in South Carolina, O'Malley took a veiled shot at the Clinton style of politics.
"Triangulation is not a strategy that will move America forward," he said. "History celebrates profiles in courage, not profiles in convenience."
Before it's here, it's on the Bloomberg Terminal.
LEARN MORE