Illinois's GOP Senator Says Unseating Rahm Will Turn Chicago Into Detroit–Democrats Not Convinced
The debt-rating wars and the mayoral runoff.
by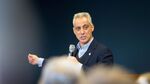 On Feb. 27, Moody's Investor Service downgraded Chicago's debt rating to Baa2. Mayor Rahm Emanuel's administration responded by saying that Moody's had been "consistently and substantially out of step with the other rating agencies." Indeed, this was the fifth downgrade of Chicago's debt since Emanuel became mayor in 2011, following a July 2013 decision to downgrade from A3 to Aa3, and a March 2014 downgrade to Baa1.
A few days later, Illinois's Republican senator, Mark Kirk, worried that the city could careen into a further fiscal crisis and become "Detroit"–fighting words in the Midwest–if Chicago's voters did the wrong thing and ... failed to re-elect Rahm Emanuel. "Rahm's re-election is essential to maintaining the value of Chicago's debt market," Kirk said. "I would worry about the value of the Chicago debt if Rahm was not re-elected… It's a concern if we have some of the less responsible people running against him."
Emanuel has only one opponent in April's mayoral runoff, a Cook County commissioner named Jesus "Chuy" Garcia. He's been running to Emanuel's left, with the backing of the Chicago Teachers Union, and on promises to raise the minimum wage to $15 and hire 1,000  police officers. On the standard left/right grid, clearly Garcia's the candidate of progressives, and Emanuel isn't. The paradox, which is boosting Garcia right now, is that Cook County finances and debt ratings are far stronger than the city of Chicago's. Garcia was part of a Democratic team that nixed a sales tax but used funds from the Affordable Care Act to balance the budget. Moody's downgraded Cook County debt, too, to Aa3, but it cited the same problems with pension obligations as it saw in Chicago. 
"This campaign is about Democratic values and how Democrats see the future," said Representative Luis Gutierrez, a one-time Emanuel critic who endorsed him this year. When asked if he worried about the city's finances or debt rating if Garcia won, Emanuel shook his head vigorously.
"I absolutely am not," said Gutierrez. "With all due deference to the senator, I don't think he has much sway."
Before it's here, it's on the Bloomberg Terminal.
LEARN MORE