Did Republicans Learn a Lesson in the DHS Battle?
Harry Reid and Nancy Pelosi have showed that they still wield enough power to thwart the majority party.
by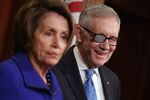 Republicans may have control Congress, but as the fight over President Obama's executive orders on immigration shows, Democrats Nancy Pelosi and Harry Reid still wield enough power to thwart them. 
In the first big test of the Republican Party's majority rule since taking control of the Senate last month, Democrats displayed a military-like discipline and unanimity in denying the Republican leaders votes for their plan to link immigration policy to funding for Homeland Security.
A rebellion by Tea Party-aligned Republicans fanned the flames, dividing the Republican Party and forcing House Speaker John Boehner to rely on Democrats to pass a one-week temporary funding bill on Feb. 27 and longer-term legislation that passed Tuesday. Republicans had sought to use a bill to fund the agency to force Obama into reversing his November orders easing deportations for 5 million undocumented immigrants.
The standoff shows that, while Republicans hold the gavel in the House and Senate, Reid and Pelosi can make it tough for them to pass legislation. Boehner will have a hard time unifying his party in order to gather the 218 votes needed to pass legislation. And to advance any significant piece of legislation in the Senate, Republicans need at least six Democratic votes to get to the 60 votes needed.
"One of the lessons is we have to be very careful and strategic about how we pick the fight,'' said Senator Pat Toomey, a Pennsylvania Republican.
Republicans must now determine how to navigate a series of battles—including an immediate debate over a fiscal 2016 budget and other policy priorities like rolling back some business regulations—in which Democrats are likely to wield a significant amount of influence because Boehner and Senate Majority Leader Mitch McConnell face divisions in their ranks.
"Republicans must learn the right lessons from this past month,'' Senator Charles Schumer, the no. 3 Democrat in the chamber, said following the House vote. "Do not hold hostage government funding for your own political goals; do not expect Democrats to go along with your hostage taking.''
That lack of communication was on display as McConnell and Boehner volleyed over which chamber should go first as the party began its retreat from its immigration strategy. The department's spending authority was set to run out on Feb. 27. At one point, Boehner revealed that he and McConnell hadn't spoken for two weeks amid the friction.
Meanwhile, Democrats, who oppose tying the agency's funding to immigration policy, were united. In a Feb. 27 caucus meeting, Pelosi urged her members to oppose a three-week temporary funding bill Boehner was pushing. They obliged, with all except 12 Democrats joining 52 Republicans to vote against the legislation.
And in four separate procedural votes, Reid didn't lose a single Democratic vote to McConnell's effort to advance the House bill.
Before it's here, it's on the Bloomberg Terminal.
LEARN MORE