Chris Van Hollen Says He'll Run for Maryland Senate Seat
Several other potential contenders have yet to make their intentions clear.
by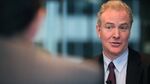 Representative Chris Van Hollen of Maryland will run for the U.S. Senate seat being left open by the retirement of veteran legislator Barbara Mikulski, he announced Wednesday in a message to supporters.
Van Hollen, 56, is a former chairman of the Democratic Congressional Campaign Committee and a close ally of  Minority Leader Nancy Pelosi (D-Calif.) and President Barack Obama.
"I believe that one of the key challenges of our time is the struggle to make sure that America works for all its citizens, not just the wealthy few," he said in a Facebook post.
His entrance could accelerate the timetable for a slew of potential candidates to announce their intentions. Fellow Democratic Representatives Donna Edwards, John Delaney, Dutch Ruppersberger, Elijah Cummings, and John Sarbanes, the son of former Senator Paul Sarbanes, have varying degrees of interest in running. Baltimore Mayor Stephanie Rawlings-Blake, former Lieutenant Governor Anthony Brown, and Heather Mizeur, a former member of the state House of Delegates, have also been mentioned as possible contenders. 
Van Hollen has been among the strongest House Democratic fundraisers over the past dozen years and he won primary and general election slugfests over Kennedy family scion Mark Shriver and then-Representative Connie Morella in 2002 to earn his seat in the House. But geography complicates his path to the Senate: He hails from Washington's tony Montgomery County suburbs, an obstacle in a state that elects most of its statewide office holders from the Baltimore area.
And while the state leans heavily toward Democrats for statewide office, a Republican, Larry Hogan, won the governorship in 2014.
Before it's here, it's on the Bloomberg Terminal.
LEARN MORE