Scott Walker Targets South Carolina As Campaign Momentum Builds
The Wisconsin governor is making all the moves of a presidential candidate.
by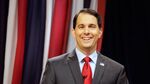 With every passing day, Wisconsin Governor Scott Walker is acting more and more like a presidential candidate. 
Fresh off appearances at the Conservative Political Action Conference in National Harbor, Maryland, and the Club for Growth's annual winter meeting in Palm Beach, Florida, Walker is setting his sites on South Carolina, where he will headline four fundraisers during a two-day March swing, CNN reports. 
Walker will blitz the Palmetto State on March 19 and 20, making stops in Columbia, Greenville, Rock Hill and Charleston. While in the state, Walker will also meet with South Carolina Governor Nikki Haley. South Carolina Senator Lindsey Graham, another possible Republican presidential candidate, could also greatly impact the outcome of the state's primary, as well as the fundraising opportunities for the other candidates, if he decides to hop into the race. 
If there was any lingering doubt that Walker is plotting a White House run, however, his weekend appearance on Fox News Sunday might have erased them. When asked about his stance on whether undocumented immigrants living in the country should be given a path to citizenship, Walker all but declared his 2016 intentions when he described the evolution of his position.  
"My view has changed," Walker said, while explaining his stance against what he termed "amnesty." "I'm flat-out saying it. Candidates can say that." 
While Walker standing has risen dramatically since his January speech at the Iowa Freedom Summit, the past two weeks saw a number of shaky moments for the Wisconsin governor—from his apparent comparison of Islamic State terrorists to union protesters, to citing Ronald Reagan's decision to fire U.S. air traffic controllers as the most important foreign policy decision of his lifetime, to an initial inability to state whether President Obama loves America. 
Walker will certainly not lack for chances to hone his stump speech in the coming months. This weekend he heads to the Iowa Ag Summit. Then, after his South Carolina swing, he returns to the Cornhusker State for a string of events, including the headlining speech at the Northwest Iowa GOP dinner on April 24, and an appearance at the April 25 Iowa Faith & Freedom Coalition's spring dinner.
Before it's here, it's on the Bloomberg Terminal.
LEARN MORE