Now in Arms Talks, Energy Secretary Moniz Once Warned of Nuclear Iran
Jim Snyder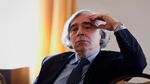 U.S. Energy Secretary Ernest Moniz has joined talks aimed at preventing Iran from obtaining nuclear weapons and brings decades-long experience to the table, once warning of that nation's atomic ambitions.
As a nuclear physicist at the Massachusetts Institute of Technology, Moniz co-wrote a paper in 2004 advocating that nuclear-capable countries such as the U.S. and Russia provide fuel for power plants in countries like Iran to prevent them from enriching weapons-grade material.
"Iran's secret fuel-cycle activities involving both uranium and plutonium pose a clear proliferation threat and are flatly inconsistent with its obligations" under treaties, according to the paper.
While Moniz's day job focuses on domestic concerns like the value of clean-coal technology or how to improve the electric grid, he has spent decades thinking about ways to both expand nuclear energy and limit the spread of atomic weapons.
Moniz's experience may factor in another way in the talks beyond his academic expertise. He reportedly met his counterpart -- the Atomic Energy Agency of Iran's chief Ali Akbar Salehi -- while at MIT, where Salehi studied in the 1970s.
Moniz is a wary proponent of nuclear power -- a booster of it as a source of carbon-free electricity but cognizant of the challenges of proliferation. During the 1990s, Moniz participated in negotiations leading to an historic swords-into-plowshares deal with Russia to turn atomic weapons into fuel for power plants.
Technical Expertise
"If I were the secretary of State, I would be delighted to have someone that knowledgeable at my side," said John Deutch, a former colleague at the Massachusetts Institute of Technology who also served as director of the Central Intelligence Agency in the 1990s.
Moniz is providing technical expertise to negotiators working on a proposed deal with Iran, and participated in the meetings in Montreaux, a lakeside town in Switzerland. Iran agreed in November 2013 to set temporary limits on its nuclear program in exchange for about $7 billion in relief from economic sanctions though a deadline looms to reach a permanent accord.
The politics surrounding the talks are heightened this week with Israeli Prime Minister Benjamin Netanyahu set to address Congress Tuesday at the invitation of House Speaker John Boehner, an Ohio Republican. The White House wasn't informed of the invitation before Netanyahu accepted it, a break in diplomatic protocol that the White House has criticized.
Netanyahu's Obligation
Netanyahu said Monday in Washington that he has "a moral obligation to speak out" against an Iranian regime that threatens to destroy Israel, while President Barack Obama told Reuters Monday disagreements on the Iranian talks would not be "permanently destructive" to U.S. Israeli ties.
While at MIT, Moniz and Deutch were two of four authors of the 2004 paper that advocated for the creation of a consortium of nuclear-capable countries that would provide nuclear services to nations that aren't.
That meant both providing the fuel for the power plants and then taking care of the highly radioactive waste at the back end, all while withholding technical expertise from non-nuclear actors.
"It is crucial that the pursuit of carbon-free electricity from nuclear energy does not mask efforts to pursue a nuclear weapons capability," according to the paper, which was published by the International Institute for Strategic Studies, a group based in London that promotes arms control.
Climate Change
"This effort can make the world safe for nuclear energy, and safer from nuclear weapons," the paper stated.
Iran has a contract with Russia to provide fuel for its Natanz reactor through 2021.
In 2006, Moniz and Deutch co-wrote another article for Scientific American arguing that nuclear energy could contribute significantly to reducing the risks of climate change, but proliferation concerns had to be addressed.
In 2011, after the nuclear accident at Fukushima in Japan raised new concerns, Moniz reiterated his support for the technology in an article for Foreign Affairs. He said it would be a mistake for nations to abandon nuclear power, as he also argued for safety improvements and again warned of the risks associated with an expansion of nuclear weapon capability.
Moniz has a "deep, deep subject expertise of all things nuclear," said Daniel Poneman, who was deputy secretary at the Energy Department under Moniz before leaving the post last year.
Expertise, Pragmatism
Poneman and Arnold Kanter, a former top State Department official who died in 2010, also helped write the 2004 nuclear non-proliferation paper.
As Obama's Energy secretary, Moniz has a reputation as a collegial, collaborative and self-deprecating colleague with an academic's technical expertise and a politician's pragmatism, said Poneman, who is now a senior fellow at the Belfer Center for Science and International Affairs at Harvard University.
Poneman and Deutch said it's not unusual for energy secretaries to be drawn into international negotiations.
President Jimmy Carter sought advice from then Energy Secretary James Schlesinger, who had also run the Pentagon, during the Iranian revolution in the late 1970s, Deutch, who was a deputy to Schlesinger, said.
Poneman said as a deputy energy secretary during the Clinton administration, Moniz helped negotiate a deal with Russia to dispose of 34 million metric tons of weapons-grade plutonium by turning it into a fuel for nuclear power plants.
"He has a very broad and well-centered worldview," Poneman said in a phone interview.
Before it's here, it's on the Bloomberg Terminal.
LEARN MORE