House Oversight Committee to 'Explore' Clinton's E-Mail Use, Chairman Says
House Republicans take note of the presumed Democratic frontrunner's e-mail controversy.
by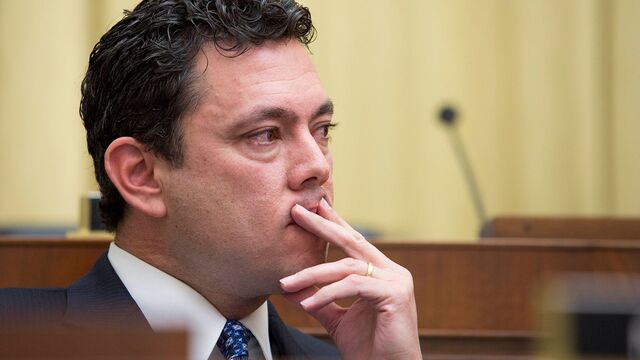 The Republican chairman of the House Committee on Oversight & Government Reform Committee said Tuesday his panel will look into the revelation that Hillary Clinton used a personal e-mail account, not a government account, to conduct business as secretary of state.
"Violations of the Federal Records Act within federal agencies is something we take very seriously," Representative Jason Chaffetz, a Utah Republican, said in a statement. His panel will work with the House Select Committee on Benghazi and its chairman, Representative Trey Gowdy of South Carolina, "to further explore Hillary Clinton's use of personal emails while at the State Department."
The New York Times first reported Monday on Clinton's e-mail practices as President Obama's top diplomat from 2009 to 2013, raising transparency questions ahead of a likely presidential campaign. Experts told Bloomberg that Clinton's practices may not have broken the law but did expose her to hacking risks.
The department recently gave the Benghazi panel, whose leaders have said they want to interview Clinton about the attacks, about 300 of her messages. At a press conference on Tuesday, Gowdy said Clinton had used multiple private e-mail addresses exclusively and slammed her for not leaving disclosure decisions up to public archivists.
"The state department does not have all of Secretary Clinton's e-mails on its servers … nor do they control access to them," he said.
Earlier Tuesday, the top Democrat on the Benghazi committee, Representative Elijah Cummings of Maryland, said in a statement that Clinton's messages related to the 2012 attack that the committee received last month should be released. 
"It has been public for several years that Secretary Clinton used her personal email account, apparently following the pattern of previous Secretaries of State," Cummings said in the statement, according to CNN. "Although Secretary Clinton has produced her emails to the State Department, it is unclear from press reports whether previous Secretaries have done the same."
Gowdy said the onus was on Clinton, not the committee, to release the e-mails.
"I am not going to make any emails public," he said. "She's welcome to."
Other Clinton allies have come to her defense, including Correct the Record and American Bridge. Clinton spokesman Nick Merrill said in a statement that her practices followed "both the letter and spirit of the rules," and State Department spokeswoman Marie Harf said in a statement that the agency had "no indication that Secretary Clinton used her personal e-mail account for anything but unclassified purposes."
Republicans including likely presidential candidate Jeb Bush have pounced; the former Florida governor highlighted his own move to release e-mails from his time in office. Republican National Committee Chairman Reince Priebus, referring to recent critical stories about fundraising by the Clinton family foundation, said in a statement, "It makes you wonder: Did she use the private emails so she could conduct diplomacy and fundraising at the same time?"
Republican research group America Rising, which on Monday night parodied the famous "texts from Hillary" meme of Clinton on her cellphone with the words "LOL YOU CAN'T SEE MY EMAILS," said Tuesday it had filed a Freedom of Information Act request for Clinton's messages.
Before it's here, it's on the Bloomberg Terminal.
LEARN MORE