Hillary Clinton Camp Pushes Back on E-mail Story
An aide to the former secretary of state says her use of a private e-mail account did not violate the law.
by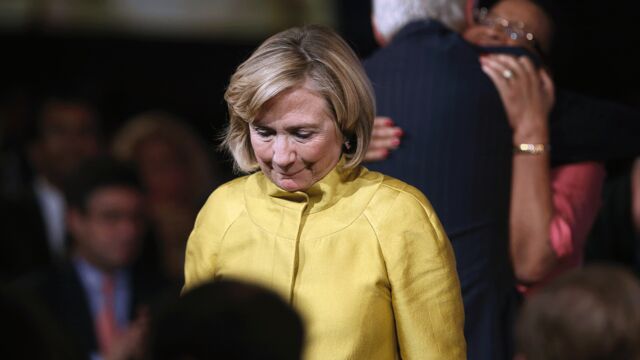 Hillary Clinton's office pushed back Tuesday afternoon on claims that she misused a private e-mail during her time as secretary of state, arguing that there was nothing nefarious at play. 
In an extended statement provided to Bloomberg Politics, a Clinton aide detailed ways in which Clinton did not run afoul of archival laws or the practices of her predecessors. Clinton only used her e-mail account for non-classified information, the aide said, backing up an assertion that the State Department made earlier Tuesday.
Clinton, the aide said, held onto a BlackBerry that she had used before her arrival at the State Department and continued to use once she got there. That's in line with Colin Powell's use of a personal laptop and e-mail account that "allowed me direct access to anyone online," as he wrote in his memoir. "I started shooting e-mails to my principal assistants, to individual ambassadors, and increasingly to my foreign-minister colleagues who like me were trying to bring their ministries into the 186,000-miles-per-second world."
The aide also said that assertions from the New York Times and others that different records rules applied to Clinton than to her predecessors is wrong, since the National Archives and Records Administration did not issue guidance updating its rules until fall 2013, months after she left office. The same rules applied to Clinton as had applied to Powell.
While NARA's preference is that officials not use an e-mail alias, Archivist of the United States David Ferriero said in sworn testimony in 2013 that "nothing in the law that prohibits them."
"We don't care how many accounts you have as long as those on which you're doing federal business are captured for the record," he also said. 
Responding to a department request for documents from recent secretaries of state, Clinton's team provided over 55,000 pages of e-mails, which the Clinton aide said included anything that pertained to her work there. Personal conversations such as e-mails with her daughter Chelsea about flower arrangements for her 2010 wedding were not included. But any correspondence with the 100 State Department officials with whom she regularly corresponded would have already been stored on the department's servers and Clinton's office made sure to replicate all of those e-mails. In all, 9 out of 10 e-mails that Clinton sent during her time at the State Department went to colleagues there.
Before it's here, it's on the Bloomberg Terminal.
LEARN MORE