Speaking in Washington, Netanyahu Says Israel-U.S. Relations Remain Strong
Jonathan Ferziger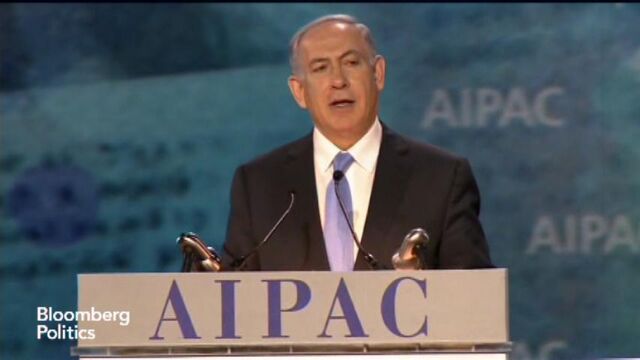 Israeli Prime Minister Benjamin Netanyahu said U.S.-Israel relations remain strong in a speech to the biggest pro-Israel lobby in Washington.
"Reports of the demise of the U.S.-Israeli relationship are not only premature, they're just wrong," Netanyahu told the American Israel Public Affairs Committee on Monday. "It's going to get even stronger in the coming years."
The speech provided a preview of an address Netanyahu will deliver to a joint session of Congress on Tuesday, where he will explain why he's trying to sink a potential Iran nuclear deal in a direct challenge to President Barack Obama. The Israeli leader accepted an invitation to speak from Republican House Speaker John Boehner without consulting the White House, a move that U.S. National Security Adviser Susan Rice has called "destructive."
Netanyahu told Aipac that his speech is not intended "to show any disrespect to President Obama or the esteemed office that he holds. I have great respect for both."
Before it's here, it's on the Bloomberg Terminal.
LEARN MORE