Four Numbers That Explain Why a Senate Retirement in Maryland is Great News for Democrats
Senator Barbara Mikulski retires, and Democrats see an opportunity.
by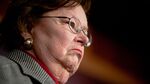 These are the numbers to think about when pondering the retirement of Maryland Senator Barbara Mikulski, a Democrat who has served more years in Congress than any other woman.
884,400: The number of votes won by Maryland Governor Larry Hogan in his upset 2014 win over former Lieutenant Governor Anthony Brown.
51 percent to 47 percent: Hogan's margin of victory over Brown.
971,869: The number of votes won by Mitt Romney in Maryland in the 2012 presidential race.
62 percent to 36 percent: President Barack Obama's victory margin over Romney.
In 2014, the decisions of four key Democratic senators to pack up their offices was devastating for Harry Reid's party. That had a lot to do with location; two of the states that saw long-term incumbents retire, West Virginia and South Dakota, had not been won by a Democratic presidential candidate since 1996 and 1964, respectively. Democratic Senate candidates lost both states by landslides, despite some early interest, and despite some late DSCC spending in the circusy South Dakota race. (The spending was matched by conservative groups.)
The damage was also strongly related to the electorate that was bound to turn up in 2014. Democratic retirements in Iowa and Michigan, two states won by Obama, became expensive slogs (and in the first case, Democratic debacles), because so many of the people that voted Democratic in presidential years stayed home. In Iowa, for example, a 2012 electorate that had been split fairly evenly between Democrats and Republicans became, in 2014, a 37/32 Republican advantage.
Democrats don't believe that the 2016 electorate will look much like 2014's. It's a fact of modern, Obama-age party politics: the new Democrats depend on turnout from younger and less white voters who simply don't vote as often in midterms. Brown discovered that in Maryland, in a year when he was running the marquee race, as some key black leaders in Baltimore went to sleep on turnout. For any Democrat to lose Maryland in a presidential year, he'd need to run hundreds of thousands of voted behind his ticket. Possible, but not something Democrats are worried about.
Plus, policies matter. Hogan was able to run as a candidate who cared nothing about social issues, a reformer who'd undo some of outgoing Governor Martin O'Malley's most hated taxes. Any Republican running for Senate in Maryland will be asking—probably—for a chance to Change Washington. Functionally, he'd be asking a Democratic-leaning electorate to help him join Mitch McConnell's Senate.
Republicans, hands still sore from high-fiving over Hogan's victory, will joke about Democrats taking Maryland for granted. The Democrats, chastened by a blown 2014 election, are not going to oblige.
So the real action in Maryland's race will likely be in the Democratic primary, where some progressives will want to replace an iconic female senator with a progressive like Representative Donna Edwards or 2014 gubernatorial candidate Heather Mizeur. Edwards would be Maryland's first black senator; Mizuer would be its first openly gay senator. Representative Chris Van Hollen, who considered a bid for the last open Senate seat 10 years ago, is likely going to look at this race. But progressives, who may not have a competitive presidential primary, will look to make the party more left-wing and diverse in other, winnable races. And a media that can't quite believe that it missed the Hogan win (and missed a near-upset in Virginia's U.S. Senate race) will pay closer attention. 
Before it's here, it's on the Bloomberg Terminal.
LEARN MORE