The 2016 Presidential Hopefuls Literary Guide
Nearly all of the presumed presidential candidates have released political memoirs.
by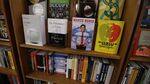 Judging from the plethora of  titles now crowding bookstore shelves, it would appear that publishing a memoir has become something of a requirement for politicians hoping to become president. 
The urge to make the leap from politician to author makes sense on a number of levels.  Releasing a book can help introduce a regional politician to a national audience, laying the groundwork for a campaign. While the bulk of a first-time effort will be spent on biographical details and formative anecdotes, most eventually veer toward policy positions without actually committing their authors to specifics, giving readers only a hint of how he or she might govern without chiseling a platform in stone. 
Of course, once a book is released, it provides its author with the opportunity to head out on a promotional tour. These carefully planned jaunts—surprise, surprise—often mirror the early primary state itinerary of prospective candidates—Iowa, New Hampshire, South Carolina, and so on. In the best-case scenario, said memoir will result in robust sales that will translate into votes that will then lead to another contract and a hefty advance to pen a second memoir (wash, rinse, repeat ... and re-elect). 
This year's crop of as-yet-undeclared candidates has spent no small amount of time crafting books (many with the help of ghost writers or credited co-writers). Here's a sampling of their output. 
Timing is everything
For many politicians, the publication date of a memoir is the real clue as to whether he or she will soon be declaring his or her candidacy. In general, if a memoir comes within a year or two of the start of campaign season, there's a good bet that its author will be a part of the festivities. 
Mike Huckabee
Just as he did the last time he ran for president in 2008,  Huckabee is prepping the ground for a run with a memoir. In 2007, the former Arkansas governor and contributor John Perry released Character Makes a Difference: Where I'm From, Where I've Been, and What I Believe. This year, Huckabee is back with the more streamlined God, Guns, Grits and Gravy,  appealing to a larger national audience generated by Huckabee's Fox News television show, and his first attempt at becoming the Republican presidential nominee. A New York Times best seller, the four G's finds the social conservative taking on the American cultural and partisan divide by going after the likes of Beyoncé. Huckabee knows his audience, and his book tour was largely centered in the south, with notable stops in Iowa. 
Carly Fiorina
Like Huckabee, the former Hewlett-Packard chief executive has timed the release of her two memoirs to the start of political campaigns. Her first effort, Tough Choices: A Memoir came out in 2007, as Fiorina was preparing to face off against Democrat Barbara Boxer in her ill-fated attempt to win the latter's California senate seat. Unfortunately, the basics of her story about her time at HP ended with Fiorina's well-publicized firing, a biographical note that didn't inspire a majority of voters in the state to support her. This year's offering, due out in May, is Rising to the Challenge: My Leadership Journey, and according to its promotional materials, is aimed at broadening the Republican party's appeal. "Fiorina believes that politics, like business, is primarily about people," a press release reads. "She shows how conservatives can reach out across the usual barriers of gender, race, income, and party affiliation to craft a message that appeals to a wide range of Americans." 
Hillary Clinton
The former secretary of state selected a title for her latest book, Hard Choices, that is eerily familiar to that of Fiorina's first. Released in June of 2014, Hard Choices follows 2004's Living History, and 1996's It Takes a Village: And Other Lessons Children Teach Us. The takeaway message from the latest book, and one likely to be repeated should Clinton MISSING WORDS HERE,  is she possesses a wealth of foreign policy experience.  "A subtle, finely calibrated work," critic Michiko Kakutani wrote in The New York Times, "Hard Choices is a statesmanlike document…with succinct and often shrewd appraisals of the complex web of political, economic and historical forces in play around the world, and the difficulties American leaders face in balancing strategic concerns with 'core values.' The tone is calm and measured, with occasional humorous asides, like describing an offer by Vladimir V. Putin, the Russian leader, to take Bill Clinton along on a polar-bear tagging expedition."
Marco Rubio
In 2013, two years after Rubio entered the U.S. Senate, he released An American Son: A Memoir, which tells the story of the senator's immigrant Cuban parents as well as his own political rise in Florida. Sticking with the themes developed in his debut, Rubio released his second non-fiction effort, American Dreams: Restoring Economic Opportunity for Everyone in January, just a few months before he is expected to announce whether he will mount a White House run. On Twitter, one of Rubio's potential rivals in 2016 gave his latest book the thumbs up. 
While book tours give prospective candidates a forum in places where voters may not yet know then, they also present risks.  Rubio recently was heckled by immigration activists during a book signing at Miami Dade College. 
Ted Cruz
The Texas senator's much anticipated literary debut is scheduled for June 30, by which time more than a few presidential hopefuls will have formally declared their intention to run for the White House. Cruz's book comes with a rather unique title, Uni Ted Cruz, but little other information has been made public about the 256-page title. "The first book from controversial Senator Ted Cruz whom many consider the front-runner for the GOP presidential nomination in 2016," the promotional copy reads. 
Jeb Bush
Co-authored by conservative writer Clint Bolick, Bush's one and only political memoir is 2014's Immigration Wars: Forging an American Solution. As the title suggests, the book deals with one of the thornier issues for politicians hoping to navigate the Republican primary season. Along with his support of Common Core educational standards, immigration is considered one of Bush's liabilities in the primaries as many in the party see any accommodation for the millions of undocumented immigrants currently in the country as "amnesty." Bush's approach to the topic may well resonate with voters in the general election, however, as it did with the Wall Street Journal's Vincent J. Cannato. "About as sensible a look at immigration policy as one will find these days," Cannato said of the book.   
Scott Walker
The Wisconsin governor is building his campaign around what many conservatives see as his signature accomplishment: taking on unions. In his 2014 memoir, Unintimidated: A Governor's Story and A Nation's Challenge, Walker recounts his successful battle to strip organized labor of collective bargaining rights. It was this victory that catapulted Walker from being a local politician to one seen as a GOP frontrunner for the White House, and seemed to prove what conservatives like Rush Limbaugh had been saying for years: that Republicans should stop trying to elect moderates. "Walker is living proof that conservatives need not move to the center to win," the promotional copy reads. 
Shelf life
Letting more than a couple of years go by before refreshing one's vision for the country in a new memoir isn't advisable. As the recent shift in attitudes about gay marriage and marijuana have shown, a lot can change in that amount of time. This category includes writers who have seen the benefit of releasing works timed to political campaigns, but, for whatever reason, haven't taken the time to pen more books to coincide with still more attempts at attaining higher office. 
Rand Paul 
While Paul seems to spend an awful lot of time trolling his political rivals on the Internet, the senator from Kentucky has also written two memoirs. In 2011, he released The Tea Party Goes to Washington, and in 2012, he followed up with Government Bullies: How Everyday Americans Are Being Harassed, Abused, and Imprisoned by the Feds, a libertarian call to arms that featured a foreword by Paul's father, Ron, and that Sarah Palin praised as "an exciting and needed call to change for all Americans." With Paul contemplating a White House run, it was clear that another book could help spread his limited government message, and so far, it appears that his new title will bee a word of mouth affair. On May 26, he is slated to release the audio book Taking a Stand: Moving Beyond Partisan Politics to Unite America. 
John Kasich 
If Kasich, Ohio's governor, is serious about running for president, he may want to consider writing a new book. Kashich's last title, Every Other Monday: Twenty Years of Life, Lunch, Faith and Friendship was released back in 2010. Chronicling the twice-a-month meetings of members of Kasich's Bible study group, the timeless topics range from whether a supreme being actually exists, to how one stays spiritually grounded while striving to rise in the ranks at work. Before Every Other Monday, Kasich published two other memoirs, 2006's Stand for Something: The Battle for America's Soul, and 1998's Courage is Contagious. Among the fans of Kasich's past literary works is ABC News' George Stephanopoulos, who declared, "Stand for Something is passionate, principled, and sure to provoke." 
Rick Perry
While Perry's "oops" moment in the 2012 presidential debates sticks in many voters' minds, his two memoirs–written during his tenure as Texas governor–have also found their own impression. His 2011 book, Fed Up: Our Fight to Save America from Washington seemed to impress Louisiana Governor Bobby Jindal, for example. "My friend Rick Perry knows that it is the American people who make this country great and not Washington," Jindal said of the book. "With appropriate respect for both our rich history and the practical needs of today, Rick sees a bright future for America, based on freedom and limited government." In his earlier work, 2008's On My Honor: Why the American Values of the Boy Scouts Are Worth Fighting For, Perry's beef is with secular humanists who are, according to the former governor, helping to erode the country's value systeme, and, more specifically, "the left's legal assaults on the Boy Scouts of America."
Bobby Jindal
In Leadership and Crisis,  Jindal's only political memoir to date, the abiding theme is that Bobby Jindal knows how to get things done. The 2010 release details the governor's response in the years following Hurricane Katrina and Deepwater Horizon oil spill disasters, slamming the federal government's efforts at regular turns. Once again, Jeb Bush found himself with enough time to read the book, and offer a few kind words. "Bobby Jindal's principled leadership shows that conservative ideas applied to today's problems can net real results. He is emerging as one of the nation's most competent leader," Bush stated. 
Plan B: Writing career
Some politicians have has such success as writers that running for office might be seen as a good way to promote book sales rather than the other way around. These authors in this category may also publish books timed to the launch of a political campaign, but they've also spent a so much time on their literary output that they could easily fall back on a career as a writer if the politics thing doesn't work out. 
Rick Santorum
Despite releasing his self-titled debut memoir in 2005, and coming out with his second book, It Takes a Family: Conservatism and the Common Good, a year later, the Pennsylvania senator lost his seat in 2006 after two terms in office. On the bright side, that gave him more time to write books. After Santorum conceded the Republican presidential nomination to Mitt Romney in the fall of 2012, Santorum and conservative columnist William Bennet came out with American Patriots: Answering the Call to Freedom. Two years later, Santorum was back on bookstore shelves with Blue Collar Conservatives: Recommitting to an America that Works, but ahead of the 2016 campaign, he has released the deeply personal Bella's Gift: How One Little Girl Transformed Our Family and Inspired a Nation. It details the story of the Santorum's eighth child, Bella, who was born with the chromosome disorder Trisomy 18, and the wrenching choices the family has to make upon learning of her diagnosis. 
Ben Carson
Though Carson has never held elected office, the retired neurosurgeon has a lot of experience publishing books. In 1990, Carson made his literary debut with Gifted Hands: The Ben Carson Story. From there, he moved to Zondervan Publishing, a Christian publishing house, and released  Think Big: Unleashing Your Potential for Excellence (1996), The Big Picture (2000), Take the Risk: Learning to Identify, Choose, and Live with Acceptable Risk (2008),  America the Beautiful: Rediscovering What Made This Nation Great (2011). By 2014, Carson had been awarded the Presidential Medal of Freedom by George W. Bush, declared himself a Republican, and given a widely publicized speech at 2013's National Prayer Breakfast. A bona fide literary commodity, Carson released two more books in 2014: One Nation: What We Can All Do to Save America's Future and One Vote: Make Your Voice Heard. In 2015, Carson kept up his prodigious pace with You Have a Brain: A Teen's Guide to T.H.I.N.K. B.I.G., an acronym that stands for Talent, Honesty, Insight, being Nice, Knowledge, Books, In-Depth learning, and God. 
Before it's here, it's on the Bloomberg Terminal.
LEARN MORE