Minority Outreach Comes to CPAC
During a strategic planning session, a small group of strangers debated strategies for building bridges between the GOP and people of color.
by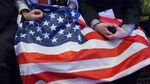 The official title of the Conservative Political Action Conference's discussion on race was "Content of Our Character: Conservatives See Deeper," a Saturday afternoon talk held on the conference's main stage. 
The panelists—four Republicans of color—touched on the need for criminal justice reform and the negative experiences they've had dealing with black Democrats, while challenging the GOP to move beyond simply being content with declaring themselves the party President Lincoln.
As the title of the event suggested, the panel also argued that conservatives, unlike liberals, see beyond race and gender, to the individual. "Our experiences and our heritage define this great nation," Mercedes Schlapp, a consultant at Cove Strategies and the child of Cuban immigrants who was on the panel, said. "But guess what, the liberals don't want us to think that way, oh no. They want to put us in separate boxes, by gender, by race, by ethnicity."
But CPAC attendees had an opportunity to discuss race a few hours earlier, during a "strategic planning session" in the same room, in which volunteers got to lead small, off-stage group discussions on the conservative issue of their choice. 
One volunteer was Adryana Boyne, the national director of Voces Action—Voices Offering Conservatives Empowering Solutions—a group that pitches conservative policies to the Hispanic community. Boyne wanted to talk about building bridges between the GOP and minority communities, instead of using divisive language.
Boyne was responding to conservative radio show host Mark Levin's Saturday morning CPAC speech, in which he argued America is "not a nation of immigrants, we are a nation of citizens." He said he was tired of Americans being treated as second-class while "anyone who crosses the border is treated as the most virtuous human being on the face of the earth."
She told the crowd that she is a citizen and that this is her country (which drew a smattering of applause from the audience), and that she is also an immigrant (which drew less applause). She said she wanted to discuss ways for the party to increase diversity and reach out to minorities. 
In the small group, Stephanie Butler, a tall brunette in her 30s, said that living in the southwest "brought me in contact with a lot of the really beautiful, wonderful people that have come to this country for a purpose, for a reason, and I think that by nature and by culture immigrants are conservative … but the soundbites and comments of a few have really cast a shadow on our party." She added that, given the soundbites, if she was an immigrant, "I wouldn't be Republican either, to be perfectly honest." 
Butler said that the Republican has to show that it's not the party of the majority, but of all kinds of groups. When she struggled to think of the right words, James DeFalco, a New York-based business owner and professional wrestler, added that the GOP has to prove that "we're not just the party of white people."  
Lynn Trevino, a 56-year-old woman, said she just bought a home in a black neighborhood Baltimore with her Hispanic husband, a man whose grandparents immigrated to the U.S. illegally. Boyne asked her if she thought her husband would agree with her or with Levin. Trevino had missed his comments, but she said, "I'm going to assume that Mark Levin used words that were offensive, but probably didn't mean what it came off. Because here's the thing, I think people want assimilation, and I think that we need to stop being the salad bowl." 
Trevino said that she wasn't raised with any prejudice in her heart and doesn't want to dislike any groups. She added that she sees several black people in her neighborhood who she perceives as "lazy" or making black people "look like they have IQ issues, you know what I'm sayin'?"
Boyne said that some people don't know the words to use to talk about race. "It is bad that [Trevino] does not understand that people do not behave a certain way because of their skin color or their accent or the country that they are from," she said. "And sadly, when people grew up in a place where they did not interact with people [from different backgrounds] they have a pretty narrow vocabulary."
Before it's here, it's on the Bloomberg Terminal.
LEARN MORE