Feinstein: Netanyahu 'Arrogant' to Say He Speaks For All Jews
The California Democrat said the prime minister's "arrogance does not befit Israel."
by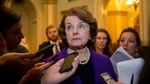 Senator Dianne Feinstein said Benjamin Netanyahu's assertion that he speaks on behalf all Jews is "arrogant," and that he does not speak for her. 
On Saturday, one day before he headed from Israel to the United States to deliver speeches before Congress and the AIPAC convention, Netanyahu made the case that his duties as prime minister are larger than just helping to guide his government. 
"My responsibility is to worry not only about the state of Israel, but also the future of the Jewish people," Netanyahu said at Jerusalem's Western Wall. "And for that reason, we are strongly opposed to the agreement being formulated between the world powers and Iran that could endanger Israel's very existence."
Feinstein, who is Jewish, took issue with that characterization. 
"He doesn't speak for me on this," the Democrat from California said, appearing on CNN's State of the Union Sunday. "I think it's a rather arrogant statement. I think the Jewish community is like any other community. There are different points of view. I think that arrogance does not befit, Israel, candidly."
Feinstein said she will attend the prime minister's upcoming speech before Congress.
"I intend to go, and I'll listen respectfully," she said. "I don't intend to jump up and down."
Before it's here, it's on the Bloomberg Terminal.
LEARN MORE