The Man Who Led the Jeb Bush Walkout Wore a Tricorn Hat
The Tea Party's most recognizable activist leads a march at CPAC.
by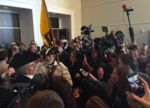 OXON HILL, Md.—William Temple is a hard man to miss. The Brunswick, Georgia pastor owns several colonial costumes and a Gadsden flag that he's been decorating with the signatures of conservative leaders since the birth of the Tea Party movement. Follow him for five minutes at any conference and you'll watch him speak, with accelerating hoarseness, to reporters looking for a good, freaky quote. He may as well change his middle name to "Stock Photo of Tea Party." (Admittedly, that is not one name.)
Yesterday Temple said he'd walk out of Jeb Bush's CPAC Q&A, and the headlines zoomed around the world.
Today, shortly after Bush took the stage—to the pulsing, throwback rhythms of "Uptown Funk." Several hecklers yelled "Common Core," which has become not just a policy but a metonym for Bush's heresies to the right. After a few minutes, Temple's flag went up, and as camera crews followed, he led a trail of a hundred (or less) people, into the hallway.
There, he was met by a mob of reporters who wanted the story of how several people had just left the speech.

"Jeb Bush is an establishment kind of man," said Temple into a row of cameras from varied nations. "We fought the Brits—they're our friends now—but we fought the Brits so we wouldn't have a monarchy. Now, in Washington, we have an establishment royalty."
As the crowd surged, an arm rose out of the crowd, waving a tricorn hat. The arm and hat belonged to James Manship, a Virginia conservative who dresses as George Washington for school presentations and at conferences. (He appeared in George garb, for example, at the 2010 signing of the eponymous "Mount Vernon Statement" written by conservative leaders.) Manship was pushed next to Temple, where the two could hold their own avails.
"What we're saying is this," said Temple. "If they can kill Chris McDaniel, who was a Tea Party candidate. If they can come in here and tell us to love the establishment --"
He was drowned out by cheers of "USA!" and "Freedom!" and "Stand With Rand!" When he regained his composure, Temple boiled everything down to a slogan.
"No more Bushes," he said. He lifted a home-made badge displaying the names and faces of four Americans killed by terrorists in the September 12, 2012 attacks in Benghazi. "No more Clintons!"
The protesters started to scatter; they paired off with reporters like kids choosing partners at a barn dance. Christopher Nosko, a North Carolina student with a heavy beard and Stand With Rand shirt, did multiple interviews about the spontaneity of the rebellion.
"I tried to organize as many people as I could, but I mean"—he pointed to the flag—"that's a pretty good standard. That's hard to miss."
The students were largely more careful than Temple to argue the positive side of the protest. "It's more in support of Rand Paul than anything else," said one student, Matthew Washington. "Because he's something new and refreshing. As a libertarian we're trying to stand up for our rights and our own freedoms, and we can't stick with the same 'same old, same old' Republican establishment that's been here. And George Bush, I mean, wow, Jeb Bush—he exemplifies that to a T. And they're trying to be pragmatic because they think he's more towards the middle, but we need a revolution, and the revolution starts with Rand Paul."
Temple did a few more interviews, and answered a few questions about just how few people actually walked out. "I'm never disappointed, because I believe in God," he said. "God will bring up. God will bring down. I trust in him." With that, he and Manship walked together away from the hall. "I will march with you, sir!" said Nathan Richardson, an activist from Atlanta wearing a black suit that would normally have attracted very few photographers.
Arit John contributed to this report.
Before it's here, it's on the Bloomberg Terminal.
LEARN MORE