Sarah Palin Dings Obama on Nazis, Christians and Blaming the Victim
The former Alaska governor said she was invited to talk about veterans, but her speech turned quickly to blaming President Barack Obama for the rise of the Islamic State.
by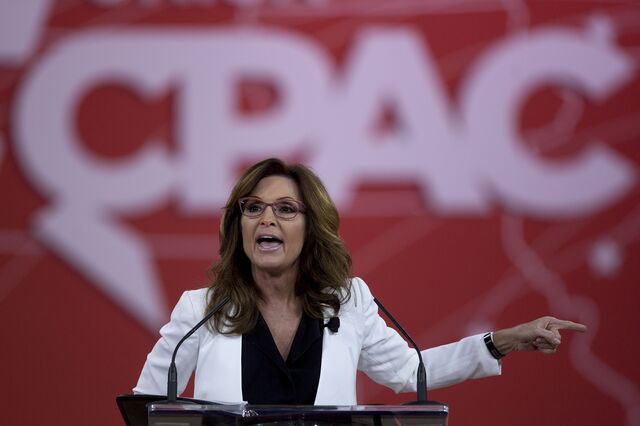 Sarah Palin rallied conservative Republicans on Thursday with a charged critique of President Barack Obama's approach to fighting Islamic radicalism, suggesting he is betraying U.S. Christians and ignoring the lessons of the Nazis. 
"Did we actually win in Iraq and Afghanistan before we waved that white flag? The jury is still out," the 2008 Republican vice presidential nominee and former Alaska governor said in prepared remarks Thursday evening at the Conservative Political Action Conference in National Harbor, Md. "But when evil Islamic terrorists are on the march screaming 'Allahu Akbar' from Syria to Iraq to Libya and Yemen and the streets of Paris, well it doesn't look like victory."
Palin has seen her standing in the party diminish in recent years. She has struggled to exert influence through her political action committee (which is now selling "I Stand With Bibi" T-shirts for $35 to imply she is pro-Israel and Obama is not) to avoid fading away or being marginalized as a sideshow even as she has sought exposure through reality television. The early focus on 2016 presidential contenders, several of whom spoke before her earlier in the day at the conference, has added a new challenge to her push to remain relevant. 
Still, at CPAC Palin showed she doesn't plan to go away and that she can still tap into the emotions of the party base. Her remarks began with a gentle touch, as she said she'd been invited to talk about the nation's veterans. Palin spoke of George Washington's commitment to soldiers at the founding of the nation and the importance of following through on the commitments promised soldiers when they return from the battlefield. She suggested veterans since 9/11 have had a tougher recovery than soldiers who fought in World War II and other conflicts because the "war on terror" is the "longest military engagement in US history." She spoke of disproportionate unemployment, divorce and suicide rates. She held out this praise for the U.S. military in her warnings about the threat she said is posed by terror groups including the Islamic State: "Aside from God Almighty, what is the only force strong enough to keep this barbaric rolling tide at bay? The only thing between us and savages is the red, white and blue, it's the United States military."
Then Palin turned her aim at Obama.  
"Lecturing Christians to get off our high horse about radical Islam won't stop the Islamists from killing Christians," Palin said, referring to recent remarks by the president at a prayer breakfast. "Stop blaming the victim and wake up, Mr. President. While Christians bow our heads to pray for you, radical Islamists want to cut off your head."
Palin also described Obama's State Department as "naive" and wrong about the notion ISIS can't be solved militarily. "They say we can't kill our way out of war. Really? Tell that to the Nazis. Oh wait, you can't because they're dead. We killed them."
Before it's here, it's on the Bloomberg Terminal.
LEARN MORE