Ronald Reagan, Scott Walker, and the ISIS Gaffe
How Scott Walker's fandom of the 40th president hurts him.
by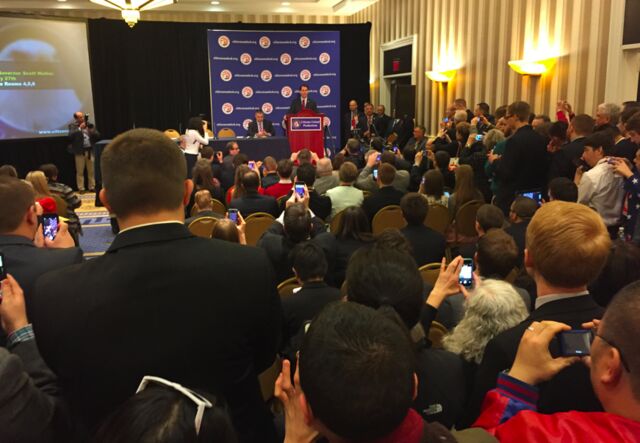 The ledes were written, the narrative was set. At CPAC, Wisconsin Governor Scott Walker was going to have another knockout speech in front of conservatives and national media. A ballroom that rarely reached capacity was out of chairs, with extra Walker fans and Walker-curious conservatives leaning against the walls. Then, after getting a friendly question about how he'd handle ISIS, Walker went overboard.
"I want a commander-in-chief who will do everything in their power to ensure that the threat from radical Islamic terrorists does not wash up on American soil," Walker said. "If I can take on 100,000 protesters, I can do the same across the world." 
In the room, it killed. And Walker had reason to think it would kill. As Alec MacGillis quickly pointed out in Slate, the speech Walker gave in New York to a group of economic conservatives—the one totally overshadowed by former New York Mayor Rudy Giuliani's riff on Barack Obama's American-ness—included an ISIS/unions jag.
"Walker argued that when Reagan fired the PATCO air-traffic controllers over their illegal strike, he was sending a message of toughness to Democrats and unions at home as well as to our Soviet enemies abroad," Larry Kudlow wrote, paraphrasing his guest. "Similarly, Walker believes his stance against unions in Wisconsin would be a signal of toughness to Islamic jihadists and Russia's Vladimir Putin."
The paraphrase did not have the potency of Walker's televised speech. He quickly cleaned up the quote in an interview with Bloomberg Politics. "My point was just, if I could handle that kind of a pressure and kind of intensity, I think I'm up for the challenge for whatever might come, if I choose to run for president," he said.
Moments later, he gave a less adroit version of the clean-up to the Wisconsin State Journal. "You all will misconstrue things the way you see fit," he said. "That's the closest thing I have in terms of handling a difficult situation, not that there's any parallel between the two."
Walker was saying this as labor groups accused him of literally conflating ISIS terrorists and unions—which he wasn't doing. But he gave no indication that he was joking. That only emerged at Thursday night's CPAC parties and at one of Friday's first speeches, from conservative radio host Laura Ingraham.
"My friend Craig Shirley reminded me of this," said Ingraham, citing the historian of Ronald Reagan's presidential bids. "In 1980, Ronald Reagan was campaigning—I think it was before the New Hampshire primary—and he said, I know how to deal with the Soviets. I can bring them to the negotiating table. After all, I had to deal with the old studio chiefs in Hollywood. And the media, just like they did with Scott Walker, went after him. Oh, how could he compare dealing with the studio heads? And Ronald Reagan basically said, 'I have a sense of humor, and you don't.'"
That's the best way to understand why Walker said this, and why he thought it would play. Walker idolizes Reagan. Every year, on their wedding anniversary, Walker and his wife celebrate Reagan's birthday by serving (according to Walker's memoirs) "macaroni and cheese casserole, and red, white, and blue Jelly Belly jelly beans." Several times, Walker has insisted that President Reagan's 1981 standoff with air traffic controllers strengthened his hand in negotiations with the Soviet Union, according to "documents" since released. "The Soviet Union started treating (Reagan) more seriously once he did something like that," Walker told MSNBC in January. No documents were cited, none were found.
Thus, the "just kidding" defense. At a Friday morning breakfast hosted by Citizens United, Walker gave a short speech that did not touch on ISIS, and left before he got a real chance to mill around with 300-odd students and activists.
"As Laura Ingraham mentioned this morning, Reagan said something similar about the Hollywood studios," said Rebecca Furdeck, a former legal intern in Walker's office. "If anything, that's an even worse comparison. I think the media needs to learn to take a joke."
Robin Lehninger, another former legal intern, nodded in agreement. "If that's what the media is most concerned about," she said, "he's doing very well."
Before it's here, it's on the Bloomberg Terminal.
LEARN MORE