Duck Dynasty Star Calls STDs 'Revenge of the Hippies'
At CPAC, the reality television star bemoans the spread of sexually transmitted diseases.
by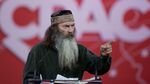 Duck Dynasty star Phil Robertson pivoted Friday from defending religious liberty to bemoaning the spread of sexually transmitted diseases, which he described as "the revenge of the hippies."
"You lose your religion, according to John Adams, and there goes your morality. We're almost there," Robertson said at the Conservative Political Action Conference in National Harbor, Md., where he accepted the Andrew Breitbart Defender of the First Amendment award. "I hate to admit I got my facts from the CDC the day before yesterday—110 million, 110 million Americans now have a sexually transmitted illness."
That number, he said, is "a penalty to be paid for what the beatniks, who morphed into the hippies—you say, what do you call the 110 million people who have sexually transmitted illnesses? It's the revenge of the hippies! Sex, drugs and rock and roll have come back to haunt us."
Robertson spoke in the early afternoon at CPAC, just ahead of National Rifle Association CEO Wayne LaPierre, whose speech led into former Florida Governor Jeb Bush's appearance on the main stage. Waiting to go on, Bush tweeted from backstage, saying he was "just waiting for Phil Robertson to wrap up!" But he didn't weigh in on the reality TV personality's comments.
Before finishing his speech, Robertson offered some advice the only "godly, biblical, medically safe option" to stop the spread of STDs: "one man, one woman, married for life."
"I don't want you to come down with a debilitating disease. I don't want you to die early. You're disease-free and she's disease-free, you marry, you keep your sex right there. You won't get sick from a sexually transmitted disease," he said. "And if you hate me because I told you that, I told you my love for you is not contingent on how you feel about me. I love you anyway. I don't want to see you die early or get sick. I'm trying to help you, for crying out loud. America, if I didn't care about you, why would I bring this up?"
Before it's here, it's on the Bloomberg Terminal.
LEARN MORE