I Asked 20 CPAC Attendees What They Like About Jeb Bush
by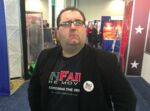 OXON HILL, Md.—Florida Governor Jeb Bush's appearance at CPAC is his first major event in front of conservatives since he started exploring the presidency. It is not comfortable turf—as popular as George W. Bush was with conservatives, he left office with TARP and the Iraq War behind him, and the hard-right and libertarian wings of the GOP have grown in influence. I asked a selection of CPACers an easy question: What do they like about Jeb Bush?
All photographs by David Weigel. 

Bev Hartley, Ben Carson volunteer from Colorado
"I really don't want Jeb Bush in there, I'm sorry. Are you working for him? No? Well, we really don't need any more Bushes in there. It's not that I don't like Jeb. I think George was a good president. We just have to do the best we can and Ben Carson is the best."

'Grizzly Joe,' blogger
"I don't like anything about him because I don't know enough about him. I'm from New York, and I don't get too deep into this stuff. He has a nice last name, though—it's got a familiar ring to it. I'm more focused on counter-jihad than anything else."

Benji Backer, young Republican
"You know, I think that he can appeal to independents more because he's more moderate, just like Hillary's more moderate. But I don't think that's enough. He's not the front-runner, by the way—he's trailing by a lot."

Matt Welch, editor-in-chief of Reason
"He's really tall. I rode in an elevator with him once, and he was taller than I was. He's better on immigration than most Republicans, right? I don't know exactly what his policy position is, and whether I'd agree with it, but totally he's much better than most Republicans, more like his brother. He understands educational choice and has done more active work towards that than 99 percent of the people who talk about educational choice. But he's got no chance."

Eric Golub, conservative comedian
"The best thing about Jeb Bush is that he was a successful governor. I don't judge people based on intentions. I judge them based on results. Jeb is being portrayed as a moderate, but he governed as a conservative."

Phil Kerpen, president of American Committment
"He had a pretty good record as governor. I find it very difficult to get past his last name and look into any relative merits. First of all, the Bush name makes it very tough to win over the electorate. Second, it's very likely he will bring back all the people we were fighting in his brother's administration. But other than that, I don't think he's particularly objectionable on policy grounds."

David Keene, former chairman of the American Conservative Union and former president of the National Rifle Association
"He was a great governor. He's not the most exciting, but his problems—all candidates have problems—is that when he left Tallahassee, he was the conservative former governor of Florida. Now, he's the former conservative governor of Florida. He's emphasized the issues he disagrees with, rather than the record he had." 

Gary Johnson, former New Mexico governor and Libertarian Party presidential candidate
"Well, I got to know him when I was governor. He kind of snubbed the Clinton White House dinner during the winter meeting of the RGA. John Engler, Christie Whitman, Bush and myself would go out with our spouses. He's got to be like the other Bushes, though, in that his alliances are going to be with his brother's organization. If he wins, that's going to be another Bush administration. They're gonna drop bombs."

Fritz Brogan, restaurant owner
"Well, I grew up in Florida. I just love his conservative record. He cut taxes eight years in a row. He was frankly the most pro-life governor in the country, if you remember the whole Terri Schiavo situation." 

Mary Katherine Ham, author and commentator
"Any time you have a candidate who has executive experience, who has been through the ringer on a couple of things, including pretty rough hurricane situations and dealing with crises—I think that's important experience for a president. The downside's the baggage of the name and how he appeals to the base."

Carl Paladino, former candidate for New York governor
"He says all the right things, you know? I think a lot of these guys play-act. I don't think they're speaking from the heart. And I don't think that's right. I think that's bullshit." 

Matthew Hurtt, libertarian Republican activist
"I don't know that there is a redeeming quality about Jeb Bush. Well, being a governor—having executive experience is a good thing. But there are other candidates with better experience."

Judd Saul, filmmaker
"I don't like anything about Jeb Bush. Nothing. Nothing at all. In fact I'm debating whether to stand up in the middle of the speech and call him a wanker." 

Melissa Oritz, blogger
"I like that all of his sentences are grammatically correct. I'm excited to know that he can read a teleprompter."

Matthew Boyle, reporter for Breitbart News
"I like that he was the e-governor, and that he'd answer e-mails personally from any average Joe." 
Stacey Lennox and Jason Dombrowski, radio hosts
DOMBROWSKI:"Oh, that's a hard question. Any time anybody mentions Bush on the show, we play a clip of Al Sharpton yelling 'Stay out the Bushes!'"
LENNOX: "He's got a kind of big government schtick." 

Bobby Jindal, governor of Louisiana
"He and I have worked together. Even though we disagree on Common Core, he and I have worked on school choice. He and I did an event in D.C. when the DOJ sued Louisiana to stop school choice—he called out Eric Holder for this ridiculous lawsuit, and he came to Louisiana to support us. Look, in addition to being supportive of what he did in Louisiana, he did many good things in Florida. I do disagree with him on Common Core and the role of the federal government in education."

Judson Phillips, founder of Tea Party Nation
"I can't think of anything that I like about Jeb Bush. He's probably a nice person, but I'm very pro-life and I remember what he did with Terri Schiavo. I think the Schiavo guy was wrong with what he did to his wife, but Bush was very dictatorial in how he handled it. The rule of law is there for a reason."

David Bossie, president of Citizens United
"We ran for eight years a project called Citizens United for the Bush Agenda. We tried to enhance and forward President George W. Bush's legislative agenda, where it was conservative. Especially on foreign policy. We're not against the Bushes. But I'm frustrated and a little insulted as an American voter that there are 330 million Americans and the Democrats can only come up with someone named Clinton and we're coming up with someone named Bush. I think Jeb Bush has to go out and earn it."

Rebecca Furdeck and Robin Lehninger, attorneys
FURDECK: I think that his stance on foreign affairs is cited by many as being reasonable. I'm thinking here... I know that he's been well-respected as governor."
LEHNINGER: "He does have a large base of support already, but he's been framed as so many by the establishment candidate."

John Hawkins, founder and editor of Right Wing News
"I like that he's not going to win."
Before it's here, it's on the Bloomberg Terminal.
LEARN MORE