How Jeb Bush Is Trying to Win Over Conservatives
After focusing on wealthy Wall Street donors, foreign-policy experts, and corporate executives, the former Florida governor is trying to win the hearts and minds of the party faithful.
by and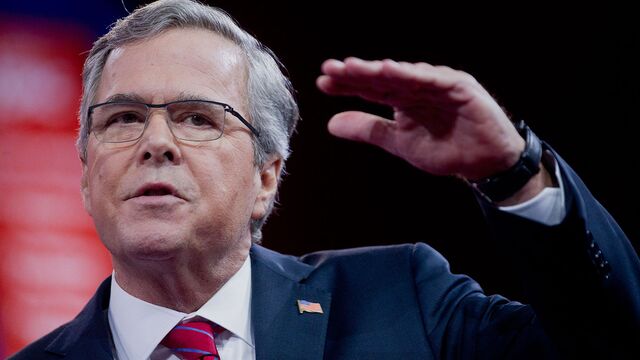 In the past two months since Jeb Bush declared his interest in running for president, the former Florida governor has addressed wealthy Wall Street donors, foreign-policy experts, and corporate executives.
Now, facing mounting opposition from the right wing of his party, he's turned his focus to the conservative activists who play a key role in picking the next Republican nominee. On Friday, the second day of the Conservative Political Action Conference outside of Washington, Bush officially launched a campaign-within-a-campaign to woo over his toughest crowd—the Republican base.
Bush was greeted by boos, cheers, and shouts when he took the stage at the annual meeting, highlighting the challenge he faces within his party. His nascent campaign packed the hall with hundreds of supporters, whose applause answered each heckle. "That was raucous and wild and I loved it," Bush told supporters after his remarks, thanking them for filling the hall and saying their support "made a huge difference."
The support came after a day and a half of Bush-bashing from the podium, as speaker after speaker attacked his positions on immigration and education. By mid-day Friday, red stickers proclaiming "JEB! 2016" started appearing, as Bush's crew started surfacing. "If there was any doubt about his organization, they flexed their muscle," said Ohio Republican Chairman Matt Borges, who was in the hall for Bush's appearance. "They made sure their supporters were there in full."
In the next month, Bush will try to repeat the performance in a trifecta of early voting states—Iowa, New Hampshire, and South Carolina—in an effort to win the backing of prominent party officials whose ties to the grassroots can make or break a candidate. Earlier this week, he addressed anti-tax activists at the winter meeting of the Club for Growth in Palm Beach. And after his Friday remarks, Bush held a series of meetings with prominent conservative activists, including Tony Perkins, the head of a powerful social-conservative organization, and conservative bloggers such as Mary Katherine Hamm.
But changing hearts and minds won't be easy. "Once people kind of refresh their perspective of who he is, these misgivings will go away. But it's a gradual process," said Al Cardenas, the Florida Republican party chairman during Bush's gubernatorial term and former head of the American Conservative Union. "The key word is patience."
Social and fiscal conservatives object to Bush's support for Common Core and immigration policy that would create a path to citizenship for millions of undocumented workers. On Friday, Bush wrapped himself in his Florida record, touting his work cutting taxes, pushing anti-abortion legislation, and budget vetos. "Florida is a place where conservative principles have helped not just Republicans but everybody," he said. On immigration, he refused to back down from his position, saying  "there is no plan" to deport the millions of undocumented immigrants in the U.S. And he said the federal government should have "no role" in the creation of education standards, creating a curriculum, or the content. "The role of the federal government is to provide incentives for more school choice," Bush said. "That is a better approach."
While flaunting his policy bona fides, Bush paced the stage, exuding a nervous energy as protest chants from supporters of Kentucky Senator Rand Paul erupted outside the hall. "We can't stick with the same 'same old, same old' Republican establishment that's been here," said Matthew Washington, 18. "And George Bush, I mean, wow, Jeb Bush—he exemplifies that to a tee."
As he hones his pitch to conservatives, Bush is working hard to avoid alienating the broader swath of voters whose support will be crucial to winning a general election.
"Last time I checked, in a two-person race you got to get to 50. That means we have to not just unite a conservative party," he told supporters in a ballroom after his speech. "We also need to reach out to people that haven't been asked in awhile."
It's a difficult balance to strike in a party that has demanded ideological purity from its candidates. In 2012, Romney hewed the conservative line on immigration to win a crowded primary. Those views later hurt him with Latino voters, who he lost by 71 percent to President Barack Obama.
Four years later, Bush faces similar dynamics. After President Barack Obama and former Secretary of State Hillary Clinton, Bush was the biggest target for conservative ire from the podium. A series of speakers took shots—both overt and covert—at everything from Bush's policy record to his wife's expensive shopping sprees.
"I think women could actually turn out in droves for Jeb Bush," said conservative radio host Laura Ingraham. "I mean, what woman doesn't like a man who gives her a blank check at Tiffany's?"
So far, Bush has declined to sign an anti-tax pledge, a decision that troubles Grover Norquist, the president of Americans for Tax Reform. Norquist is still frustrated with Bush for 2012 congressional testimony that supported limited tax increases in return for spending cuts, a position that deviated from Republican orthodoxy.
"If you want to accomplish anything in this town, the House has to be with you, the Senate has to be with you, and you have to be with you," Norquist said. "He came in on their fight and got in the way."  
Arit John contributed to this report.
Before it's here, it's on the Bloomberg Terminal.
LEARN MORE