Democrat Says Republican Accused His Party of Being Responsible for Murder
Representatives Pete Sessions and Alcee Hastings have a difference of opinions.
by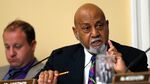 This has been a mess of a week for Congress, with accusations flying from all sides. But murder?
It happened Thursday night, as U.S. Representative Alcee Hastings of Florida scolded Rules Committee Chairman Pete Sessions of Texas for, he said, accusing President Barack Obama and his party of being responsible for "murder" as a result of their immigration-reform actions.
"You need to listen to yourself," Hastings said, during a committee meeting late Thursday.  "You just in one foray accused the president and Democrats–and I'm in that group–of being being responsible for murder.  And I don't feel that I'm responsible for murder."
What prompted Hastings's ire? During discussion on a three-week measure to keep funding flowing, at least temporarily, to the U.S. Department of Homeland Security,  Sessions was explaining why Republicans were insisting that any longer-term spending bill include language to halt Obama's actions to ease deportation for millions of undocumented immigrants, and that he believed the courts will eventually back the Republican effort on legal grounds.
"Every day, all along border states, maybe other places, there are murders by people who have been arrested coming into this country, who have been released by the Obama administration, I believe in violation of the law, who are murdering Americans all over our cities," Sessions said. "We hold the Democrat Party and the president accountable for this action."
Hastings, a committee member, took strong exception.
"I understand all of the lawlessness that's going on. But it's very troubling when you make that kind of statement," said Hastings, saying that Sessions had just accused Obama and Democrats of being responsible for "murder."
Sessions interrupted to say he was accusing them only of being responsible for policies that have allowed such lawlessness.
The three-week funding bill is to be voted on the House floor Friday, and Democratic leaders have been organizing their rank-and-file to vote against it. The agency is facing an expiration of its current funding mechanism at midnight.
Before it's here, it's on the Bloomberg Terminal.
LEARN MORE